If you're here to know how the Monopoly Live by Evolution Gaming is played, then you've landed on the right site. On this page, we shall cover everything about the Monopoly Live game and offer you the best free tips to beat the game.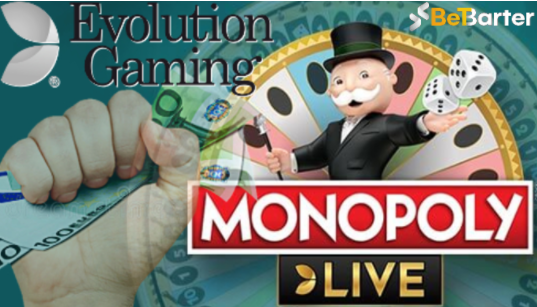 Monopoly Live is an entertaining Dream Catcher Edition board game designed by Evolution Gaming. It is one of the oldest boards worldwide and is being played by thousands of people every day. This game instantly received a lot of traction among bettors due to its straightforward rules and massive multiplier wins.
Now, without ado, let's jump directly into the topic and explore every detail about Monopoly Live, and where you can get the best experience of this live game.
Side note: We have prepared a solid Andar Bahar playing guide for anyone interested to play this Andar Bahar game. If you are one of them, click on the link and read the guide to start playing the game straight away at online casinos for real money.
What is Monopoly Live?
The game Monopoly is a very simple game. It is the product that came out after the collaboration between two renowned developers Hasbro and Evolution gaming.
This game is run by a host, who spins the vertically mounted wheel. The players, on the other hand, will guess the number on which segment the wheel land and they will place their bets on that particular number. And, if the spinning wheel land on their predicted number, then they will win the prize.
The wheel of the game consists of 4 different types of segments: number segments (1, 2, 5 and 10), Chance, 2 Rolls and 4 Rolls. 2 Rolls and 4 Rolls are bonus segments that can pay you high reward. If the wheel lands on bonus segments, the 3D Mr Monopoly feature of the game will be activated and this feature can make you win big.
The objective of the Game
The main objective of each player playing Monopoly Live is to predict the right number where flipper points after the spinning wheel lands. This is how players beat the game and win the payouts.
Another, true objective of the game is to land on the position that can add a multiplier and trigger a bonus. The real gem of the game lies in both this position as this is where wealth comes in abundance.
How to Play Monopoly Live Game?
Monopoly is a very simple game that consists of 3 simple steps. Below is a quick way of learning how to play Monopoly Live.
1. Placing a Bet
The initial step of the game is to place your bets in the number where you feel the flipper is going to stop. The Monopoly wheel contains 54 boxes and seven different segements. They are 1, 2, 5, 10, '2 ROLLS', '4 ROLLS' Chance.
Among, these seven betting options, players are only allowed to place their bet on six options, except Chance.
The payouts of all the six betting are,
1: 1 x your bet
2: 2 x your bet
5: 5 x your bet
10: 10 x your bet
2 rolls: Bonus game
4 rolls: Bonus game
In case, if the flipper points the Chance, one of the two things will happen:
Players will be awarded a random cash prize, and their initial stake will be returned to them.
Players will be rewarded with a multiplier which becomes valid for the next round. During this round, the player's initial bets will remain in place.
2. Spin the wheel
Before the game begins, each player must place their bet within 12 seconds. Once each player places their bet, the host spins the wheel.
3. Show up
Next is the show-up round. Here, the wheel stops and the flipper points to a certain number. If the wheel lands on the same number as your bet, your initial bet will be multiplied by the number for payout.
4. Payout
The last stage is the payout round where your winnings will be added to your account instantly if you win the game.
Monopoly Live Segments and Statistics
As explained above, there are seven different segments on the wheel of Monopoly Live. And each has its payout.
Have a look at the following table to know their segments and how much they pay.
| | | | |
| --- | --- | --- | --- |
| Segment | Quantity of Segments | Probability | Winning Payout |
| 1 | 22 | 40.74% | 1:1 |
| 2 | 15 | 27.78% | 2:1 |
| 5 | 7 | 12.96% | 5:1 |
| 10 | 4 | 7.41% | 10:1 |
| 2 Rolls | 3 | 5.55% | Bonus |
| 4 Rolls | 1 | 1.86% | Bonus |
| Chance | 2 | 1.86% | Cash Prize or Multiplier |
Monopoly Live Tips and Game Hacks
Now, as you're familiar with the basics of the game, let's have a look at the common tips or strategies of Monopoly Live to enrich your winning chances
Stick with 2 Rolls or 4 Rolls
This is one of the most effective strategies for those who want to win huge as the multipliers get big in the bonus round.
Thus, if you want to boost your winning chance, then always place a bet on 2 Rolls or 4 Rolls. This is because the potential payouts in this bet are 100x times your stake. Furthermore, the RTP rate is also good.
Bet on 1, 2, 2 Rolls and 4 Rolls
Another, best Monopoly live tip is to place your bets in 1, 2, 2 rolls and 4 rolls betting segments. The betting on these options will spread the risk evenly and though the winning is small it happens frequently.
Set a budget
Never start the game without planning your budget. Many players, especially newbies, start their game without setting their budget. However, you must never do it.
The reason behind this is only the fixed set of the budget will allow you to place your bets at a size and pace that suits you. Moreover, you can quit the game if your amount gets over.
Best Online Casinos to Gamble Monopoly Live
With this knowledge, you're all set to try this game. Despite all this, one question may still arise in your mind and i.e., how to find the perfect online casino house to gamble from?
Well, No worries. We are happy to tell you that BetBarter offers Monopoly Live for Indian punters, as well as many other Indian sites that offer this game. Among all the available casinos, you can choose BetBarter, India as it is the best online casino currently.
Licensed under the Curacao Gaming Authority, BetBarter is legally authorized to offer online or live casino games and your data is completely safe with us.
So, register with us and enjoy a wide variety of online games. You can find all these incredible casino games under the 'Live Games' tab on the homepage of our sites. Apart from casino games, BetBarter also offers a wide range of sporting events for you to bet on.
Additionally, we also offer various welcome and loyalty bonuses for our players. So, sign up today and check what we have for you!
Good Luck!