Play Craps Online on Real Money
You can play craps, a popular game of dice at brick and mortar casinos online on your mobile or computer from the cosy corner of your house or anywhere. Many online casino players play craps online on real money and have oodles of fun at their favourite online casino.
Craps is a casino table game in which players wager on the outcomes of a pair of standard dice. This exciting, action-packed and fast-paced game easily grabs the attention of players. It is a simple game but the table layout of the game might look intimidating to beginners. Once you get the hang of the game and betting options, it will be just a piece of cake for you.
You can play Craps online on real money at various online casino sites. For the best online casino to play craps from India, you can choose BetBarter. Before playing on real money, it will be beneficial for you to get your head around the best craps strategy. By applying betting strategies, you can enhance your winning chances.
If you are a beginner, first learn the basics of online craps and basic craps strategy. This article is not for beginners but for casino veterans looking to improve their gameplay by learning advanced betting strategies. Let's discuss such strategies for playing craps online.
Apply Best Craps Strategy | How to Enhance Your Winning Chances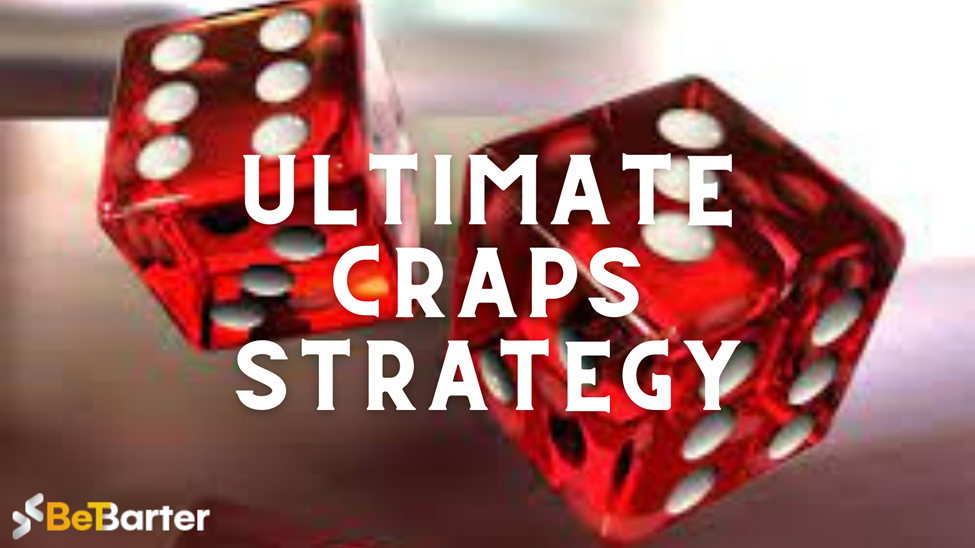 3 Point Molly Strategy
This strategy requires you to have a sizable bankroll. According to this strategy, the player places bets on multiple betting options with low house edges. The idea of this betting strategy is to reduce losses from placing multiple bets with plenty of small winnings made throughout the game. The player will always have bets on three numbers applying this strategy.
Follow the steps below to implement the 3 Point Molly strategy.
Place your bet on the pass line. That means your bet wins if the shooter throws dice to land on 7 or 11. Once a point has been established, the next stage of the strategy begins.
After the Point has been set, you wager max odds on the point and also place Come bet.
The next step is to move your Come bet to the next or second point bet. If the dice thrown by the shooter lands on a number other than 7 or 11, that number is your second Point. Place your bet on the second Point, add the max. odds and wager Come bet again. At this point, you place wagers on the Come bet and the point, Pass Line and one another number.
Next, wager on the third number. If the dice lands on a number other than 7 or 11 or two numbers chosen by you earlier, then that number is your third number. This is a final number where you wager at maximum odds.
Iron Cross Strategy
If you are someone who enjoys playing games with frequent wins, then this strategy suits you and can be the best craps betting strategy for you. This strategy doesn't consider 7 a lucky number at all and lets you win when the dice lands on any number other than 7.
Iron Cross strategy is also called Field Bet strategy. You can implement this strategy after the comeout roll and the Point's been set. You place your bets on all numbers excluding 7.
For example, you can wager on the Field, Place 5, Place 6 and Place 8. You will win for any dice roll other than 7. Remember that this strategy doesn't make the house edge the lowest. However, it is a fun strategy from which you can have frequent wins.
Wild Bettor Strategy
If you are someone who enjoys taking risks and wants to score massive wins, then this casino craps strategy suits you. This strategy involves risk as you can lose your bankroll quickly if Lady Luck is not with you.
Although this strategy makes house edges high, it involves making proposition bets that can pay out big on winning. The proposition bets are: Yo bet and Hi-Lo bet.
Yo bet is a famous proposition bet and pays out 15 to 1 on winning. The bet is made on 11. This bet can also be made on 3 but it is uncommon as 3 is one of the craps numbers which are 2, 3 and 12.
Another proposition bet is Hi-Lo bet with a house edge of 11.11% and payout odds of 15 to 1. It is a bet on a number 2 or 12.
These bets are risky but add much excitement to the game and offer chances of winning big.
Final Words
We hope that this article will be helpful for anyone looking to master the game of Craps. The best craps strategy for you depends on your bankroll and gaming style. You can choose one of the betting strategies discussed above and apply it to improve your gameplay.
It is not that you must use one of the betting strategies discussed in this article. But they can be beneficial if you apply them in the right way. Remember that, no strategy guarantees your winning since the involvement of the luck factor in this game. However, you can bet smart and improve your winning chances.
Always play Craps online on real money at a trusted and genuine online casino platform. Don't know where to start? Choose Betbarter, one of the best online casino platforms for various online casino games like Craps, Betgames, Roulette, Slots and many others. Read our article for Betgames tips by clicking on the link.