If you are an extrovert craving for the fun that comes with the crowd and the bright lights of a land-based casino but you can't leave your home, here is the list of top five social casino games for you.
These casino games are fun and perfect for extroverts where you can chat with your fellow players while having fun at your own pace. The games on our list also possess some lowest house edges that can make you earn a big.
So, without further ado, let's get started.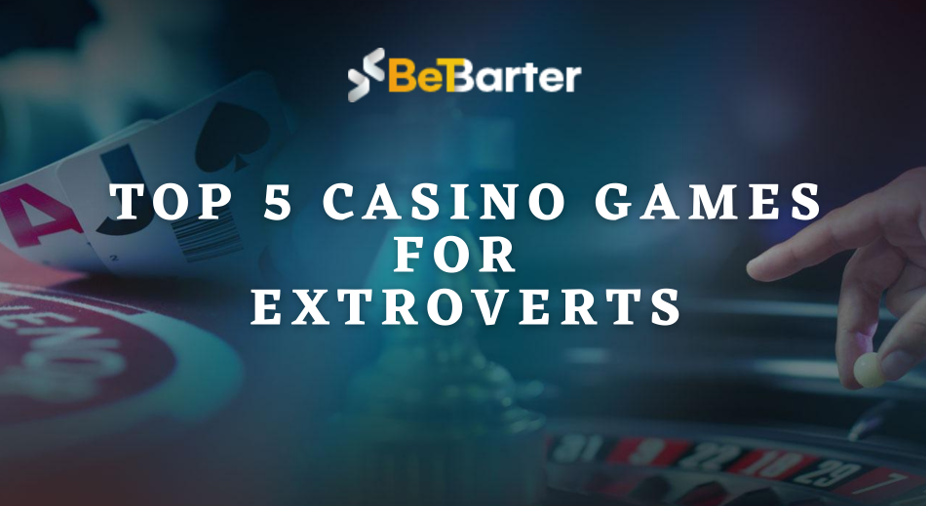 Craps
If you are someone who is extroverted and outgoing, Craps are definitely the prime game for you. Craps tend to generate a larger audience and excitement where everyone can gather and feel the excitement together. Players can throw down their chips and place their bets, as well as roll the dice.
Players can play with the same excitement on the best online casino sites as the hall-based casinos through chatting, socializing, and having fun with the rest of the players and the dealers.
The rules of craps are easy to grasp and even a new gamer can learn and play. You can get a wide variety of craps games online. You just need to decide which style of online craps suits your gameplay.
Poker
Any extroverted and competitive player can benefit from poker. Poker being one of the most popular games in online and offline casinos generally involves the player and their opponents only. Learning how to play poker is not difficult and you can just start with it by learning its basic rules if you are someone new to poker.
Poker comes in a lot of exciting variants that you are never going to get bored of. One of the most common variants of poker in an online casino is Texas Holdem. It is one of the most played forms of poker across the globe. Having so many variants, the basic rules are the same for almost every variant of poker.
Many players like to play poker as a source of good additional income or even a full-time job. But money is not just the attraction here. Poker is a competitive game and for someone who loves to show some skills, poker is the best to start with.
Blackjack
Another great casino game for an extrovert is the popular blackjack. Blackjack is a fast-paced game, but here is what appeals the most about blackjack: its simplicity and ease to play. This game is perfect for extroverts where players can thrive while placing bets and interact with live dealers. Players can also chat with their fellow players in the live chat room and you can share your strategic plans.
Unlike some other casino games, blackjack is not that complex game to play and it comes with very few rules. These rules are easy to understand, and you don't need to place extra effort to figure them out. Even if you are new to Blackjack, you can easily learn to play Blackjack quickly.
Roulette
No matter if you are an introvert or an extrovert, the classic roulette can be perfect for anyone. This game is so simple and easy to play, and it often gets attention from a wide range of players.
The spins are generally done by the dealer and you can find a new group of excited players at the roulette wheel.
There are live chat rooms where you can chat and have a conversation about the game with other fellow players and share your strategic plans while having fun with the game.
You place and choose your bet and let the wheel spin. The dealer is available and you can interact and ask questions about what you want to do.
Slots
If roulette just isn't your thing, the next choice for extroverts is the exciting slot machines. Slot machines are the perfect place for entertainment and you can just start the game without any extra knowledge. The slot machines in an online casino often come with chatty chatrooms where the players can chat and have fun with the other players.
Slots come with a lot of variants and exciting themes that you are never going to be bored of. You just have to insert the coin in and let the slot machine spin in your favour. This is a great game that can make you quick money and you can even invite your friends to play the multiplayer slots.
You and your friends can find oodles of engaging slots games online. Just choose one and start rolling your spins.
Conclusion
These are the top five social casino games for extroverts. You can play these games alone or together with your friends.
Consider house edge of the casino game while selecting the game if you want to win a big while having fun playing your favorite game.
Choose BetBarter – one of the top and reliable online casino sites in India. Betbarter offers plenty of exciting casino games for both introverts and extroverts, including Roulette, Poker, Slots, Craps, Deal or No Deal India, and other exciting live casino games.
Register now and share your experience with BetBarter.