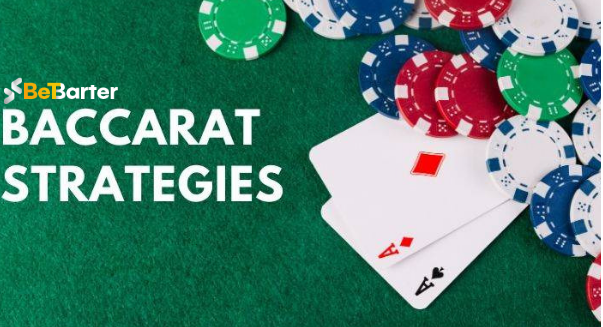 Baccarat is one of the most popular card games found in physical and online casinos. It is a very straightforward game with simple rules. In this game, players just need to place their bets on one of two outcomes, either on the Banker or the Player side.
Despite these simple rules, players often tend to lose a huge sum of money due to a proper lack of strategies. If you are one of them and want to improve your gameplay, then you've landed on the right site. On this page, we shall cover some of the top Baccarat strategies to help you win consistently.
With these right Baccarat tips and strategies, you're all set to play Baccarat like a professional player. Also, if you apply these tips, you can grow your bankroll, increase your winning chances and also take your gameplay to the next level.
Besides this, you must also do a bit of research on your preferred casino and always place your bet from the best online casino. The reason behind this is there is no benefit of applying effective gambling tips on shady casino sites that are just there to scam you.
So, let's jump on the main topic.
Baccarat Tips & Strategies
Learn the Rules
The first thing you should remember before you sit down for an online Baccarat session is to learn the basics rules and gameplay. In this, you must understand the basic concept of how the cards are dealt and how it is scored.
Also, review the main objective of the game and be familiar with the values of each card. Never play Baccarat on real money at an online casino until you are aware of its basic rules. If you are a beginner, you can quickly go through its rules and then start playing at your favorite casino.
Bet on Banker
The next thing that you must consider is to play wisely and bet on the banker's hand. In Baccarat, there are three types of bets, the Player, the Banker, and a Tie. Among all these bets always bet on the banker side as it has the slight advantage of over 50 percent.
Many players, especially newbies, find this bet unattractive due to casinos taxed of 5% commission on the winnings. However, despite this commission, statistically, this bet is more profitable in long run due to its lower house edge. Also, it's safer than other bets as it has a high winning chance.
Forget Tie Bet
Never place your bet on a tie bet. This is the worst bet available in Baccarat hands. Although this bet offers a huge payout of 8:1, this bet usually comes with one of the highest house edges of 9.5%.
This clearly indicates that the chance of winning in a tie bet is extremely low. So, avoid this bet as much as you can, if you want to remain longer on the Baccarat table.
Avoid Side Bets
Casinos usually offer three types of main bets, but some also offer the next type of bet known as side bets. If you're new to Baccarat, then you may have no idea what exactly they are and if they are worth placing bets or not. The number and type of side bets available can vary from one variant of the game to another.
One of the side bets is that which pays if either the player or banker gets three cards are of the same rank. It pays well if the player or banker does so. The payout on the player's hands is 75:1 and in the case of banker's hand, the payout is 68:1.
Of course, this huge payout tempts many players to place their bet on side bets, but never do so. The reason behind this is that these bets come with more risks and low RTP.
Bankroll Management
When it comes to winning strategies in casino games, it is incomplete without planning a fixed budget. By managing your bankroll properly, you can enjoy the thrill of casino games without feeling disappointed while you leave the casino.
Furthermore, you'll also know when to stop your gameplay even if it's tempting you to play further. Also, it will help you lessen your losses and save your winnings before the casino takes them back.
Many players also have the habit of chasing their losses to recover them. But, as a player, you must never do so. This is because if you run after your losses, then you may lose more than what you have already lost.
So, always stick to your planned budget and walk when you're out of it. Also, make sure to calculate the commission of banker bet in your money management plan.
Play Short Sessions
The last Baccarat strategy on our today's list is always to play short sessions of the game. When it comes to Baccarat, short sessions are great to boost your bankroll. If you're losing frequently, then the long-term game will only decrease your bankroll.
Furthermore, if you're winning, then brief sessions will definitely work best for you. So always plan and play a specific number of games. And, once you reach the set number of games, accept both losses or win and walk away from the table.
Of course, losing the money can tempt you to play further, but never do so and keep the game short and sweet. By doing so, you'll learn when to stop your gameplay and when to come back.
Additionally, if you're losing continually, then leave the game for that particular day and come back again with a fresh mood.
The Bottom Line
With these Baccarat basic tips, you're all set to tackle this highly entertaining casino table game. Along with the right wager on every hand, you must also use these tips to improve your gameplay and long-term results. So, whenever you decide to try this game, follow these strategies and become a pro-Baccarat player.
If you're planning to try this game, then choose a safe and licensed casino platform like BetBarter, India. You can choose BetBarter as your casino to play Baccarat and grab our incredible offers such as bonuses and promos. At BetBarter, you can play all the variants of Baccarat and a multitude of other spectacular casino games from the comfort of your home.
So, what are you waiting for? Register now and check what we have for you.
Good Luck!