Since online gambling is very popular, it comes with plenty of controversies and myths. If you have kept yourself away from an online casino, it may be probably because of the nasty rumors and myths you have heard about it.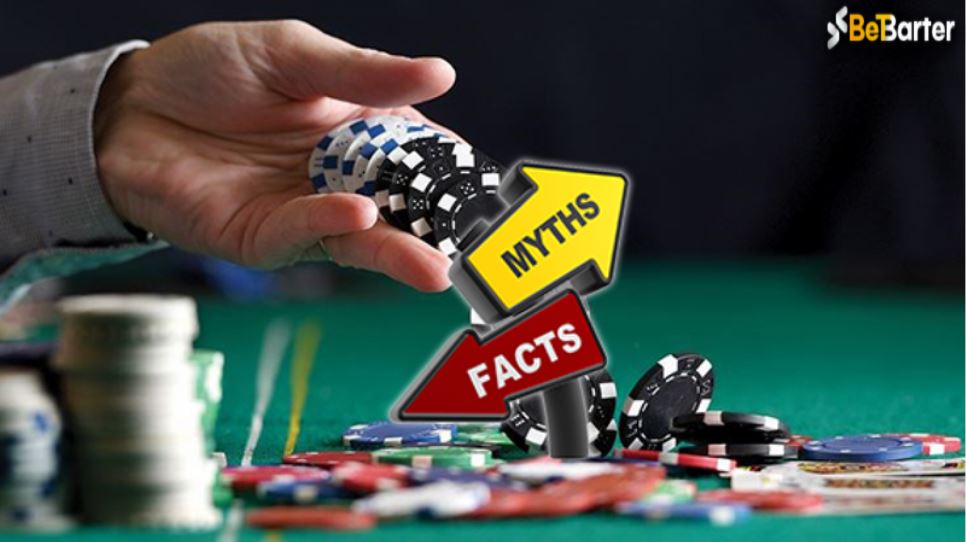 Maybe you have heard that the casino game is fixed, or something like the entire casino is impartial. But thankfully, most of these myths you have heard online are false.
To make your doubts crystal clear, we will expose the ten common myths surrounding online casinos in this blog.
1. Online casino games are rigged.
You might have often heard this popular myth about online gambling that the online casino games are rigged. But fortunately, this is just a myth that is untrue if you are playing at a legitimate betting apps online casino. This myth is usually spread out by someone who has little or no knowledge about why they lose the game.
The truth is every casino game like bingo or slot uses an RNG (Random Number Generator) system that ensures the outcomes generated are unpredictable and unrepeated.
For optimum fairness, this system is checked by each casino site and they even employ third parties like eCogra to evaluate the fairness of the game. Thus, online casino games at licensed and regulated online casinos are fair and unrigged.
2. Casino games are not secure.
As online scams are becoming more and more frequent in the present era, this fear is generally normal. Fortunately, this is not in the case of the top and reliable sites. When it comes to playing in an online casino site, the top casino sites are very secure and guarantee the safety of their players.
The operators use top-level encryption technology and security measures to protect the user details, data, and payment so that you can enjoy gambling without any worry and fear.
However, some dishonest and shady sites can try to scam you. To prevent it, only play at a reliable, properly licensed and reputed casino site that you can completely trust on.
3. More cards equal more wins
The next myth in our list is the myth that surrounds Bingo game. A lot of bingo players believe that purchasing more bingo cards or tickets can make their chances of winning higher. For example; people tend to buy like 10 cards or tickets believing they will have 10 times the chance of winning. However, this is just a myth.
The truth is that the odds will remain exactly the same no matter how many tickets you buy. And the more cards you buy, the more money you spend and the more confusing it could get.
4. It is all just luck.
This is another common myth about online casinos. There are some casino games especially table games where your gaming strategy also highly matters.
Some might think that in the end, the Lady Luck is holding, and dealing, all of their cards. But this is not completely true. Though casino games are usually considered games of chance, there are some games where players can show their skills and enhance their winning odds.
Slots and bingos, for example, are classified as soft games which means there is very little strategy involved and outcomes are basically dependent upon chance. The player can do very little to affect the outcome of a spin or the numbers being called.
However, some other games like a skill-based game like baccarat needs betting tips, strategy and require skill to win. In the games like Blackjack and Poker, players can develop and use their skills to count cards or implement baccarat betting tips to improve their gameplay.
However, we don't deny that luck still plays an important role in casino games that are known as the games of skill.
5. Playing online casino games can lead to gambling addiction.
Some players might be afraid of playing casino games online thinking it could lead to addiction. But there is no such evidence that shows online gambling can make a person addicted to gambling.
Online gambling has become more accessible than ever but whether a person becomes addicted to gambling or not depends on if a person has underlying issues or not.
Casino games are extremely fun to play and have been known to relieve stress and offer enjoyment. Also, research and studies suggest that gambling responsibly can actually make them smarter than addicted. It is also known to increase cognitive strength. Hence, playing responsibly can never lead to an addiction.
6. Online casinos are illegal.
This can be true for some countries or states within a country where gambling is illegal. But there is no such law that prohibits players from gambling online. In some parts of India, land-based casinos are banned. However online casinos are totally safe and legal.
Also, if any country prohibits the local operations of an online casino site, people can still go online and gamble on sites based outside their countries. There may be restrictions for some, but overall online gambling is not completely illegal.
7. Online casinos will not do payouts.
This myth can only be true if you choose a non-licensed or fraud casino site. To avoid such consequences, enough research is needed. Make sure that the online casino you choose is reputed and reliable. If you check for its certificates and license and check if it is trustworthy, such an incident will never occur.
The reputed online casinos are really good at giving payouts on time and you can check reviews of online casino sites on different customer review sites regarding this.
If somehow even a reputed casino refuses to make a payout, there might be several reasons for that. The most common reasons are:
Player being an underage
Using another person's credit or visa card
Having more than one account with the same casino site
Violation of the casino's Terms and Conditions
8. If you are winning too much, the game will freeze.
Unless there is a software or hardware malfunction, your game will not freeze. If you are winning too much, the casino might run out of coins but it won't simply stop working because it figured out that you won more.
If your game suddenly freezes during a playing session, it is more likely due to a connection problem or some other internal problem. If somehow you face this problem, contact the casino customer support system as they might solve your problem within a short time.
9. Online gambling is not social enough.
This is another common myth about online casino gambling. Though there is no face-to-face interaction in online casino sites, players can choose to play live casino games with a live casino dealer to experience more interaction.
Virtual Reality (VR) casino games take the interaction even further and it is very close to the experience players get from brick and mortar casinos.
Though you exclude from going to an actual hall, playing casino games online is very social and you can experience a great deal of fun and enjoyment. You get to interact with different new people sitting in your places and comfort zone. So, it is definitely not antisocial.
10. You can trick a machine by increasing the bet size
Well, this too is just a myth, and increasing your bet is not going to increase your odds. You can however try increasing the coin size, but it might not guarantee you the desired result. And even if it did, it won't be because of the changed bet size or the number of paylines. It would be completely random.
Video poker maybe the only type of game where you can increase your odds of winning with higher bets. By placing the maximum of five coins per bet, you can get the highest RTP possible.
Conclusion
These are the biggest myths of an online casino game. I hope this article has cleared some of your doubts and confusion regarding online gambling. Do not fall for any above-mentioned myth.
Casino games are super fun to play and if you are someone new to this, you should give it a try. Online games give you an incredible chance to join with people, have fun and win while still maintaining a social distancing. So, you should definitely go for it.
Choose BetBarter for a secure and fun gambling experience. BetBarter offers tons of exciting casino games including Roulette, Blackjack, Baccarat, Andar Bahar, Poker, Slots, Craps, and many more.