Introduction to Online Slots Real Money Games
Massive progressive jackpots and exciting graphics in online slots real money games attract many casino players from around the world. There might rarely be some casino players who have never put their hands on slot machines.
Slot games are the most popular casino games, both online and offline. People get tempted to these games with the hope of changing their fortune. And with the advent of online casino, slot games have become one of the most played online casino games across the globe.
But many people still doubt that they can win so much money and become millionaires by playing casino games. To clear your doubts, here, we share the biggest slots online jackpot wins of all time.
What even more interesting to know is that almost all winners in the list invested a tiny part of their bankroll and walked out as millionaires.
Let's dive in!
Slots Games Biggest Wins in History
This list covers the top 12 biggest slot wins of all time. Who knows? Maybe you can be the next winner while playing one of the casino slot games.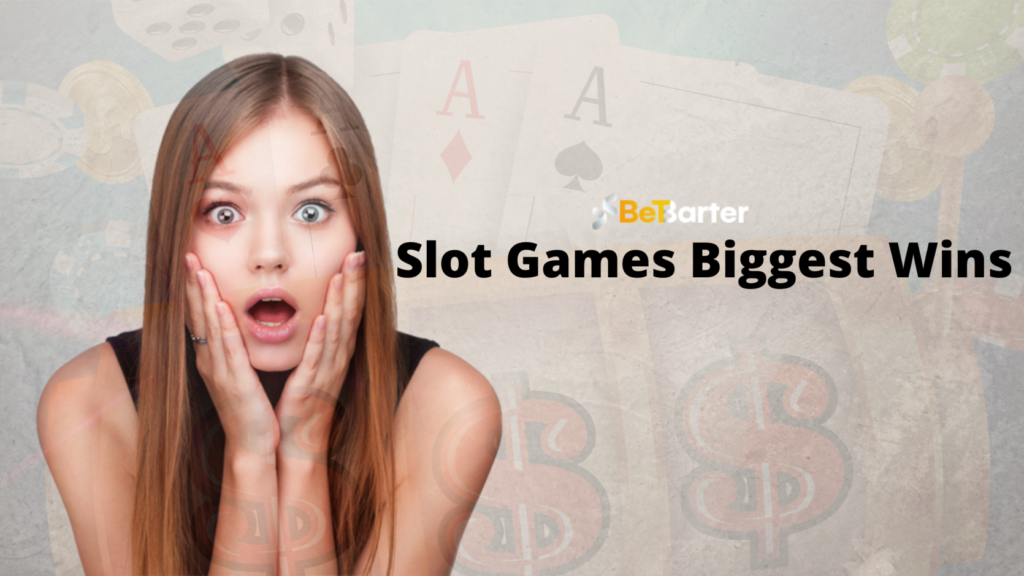 1. An anonymous young man won $39.8 million
In March 2003, at Excalibur Hotel & Casino in Las Vegas, a young man of 25 won the record holding jackpot of almost $39.8 million by playing Megabucks slot. He won this massive jackpot with the investment of just $100.
While his visited to Vegas from Los Angeles for College basketball match, he walked into the casino to kill some time. To everyone's surprise, it turned out to be the blessed pastime for him.
He requested for anonymity and decided to take $1.5 million every year in an installment basis for the next 25 years.
2. Cynthia Jay Brennan
Cynthia Jay Brennan, then a cocktail waitress in Las Vegas, marks the second-biggest slot win with $34.95 million. The prize was the biggest in history at that time.
In January 2000, she entered Desert Inn Casino to play Megabucks Slot. Just an hour later, she walked out as a millionaire. After that Cynthia life was changed forever.
But unfortunately, her life did not take a good turn. Just six weeks after her biggest win, she met into a car accident that left her paralyzed from the chest down.
3. Retired Air Stewardess
A woman of 67 had won $680,000 from Wheel of Fortune at Palace Station Hotel in Vegas.
Her jackpot story does not end here. She continued to play slot games. And after few months, in January 2000, she hit the whopping jackpot of $27 million from Megabucks slot at the same casino.
Well, that's a stroke of intense luck. With the investment of just $300 in her second win, the lady got to enjoy her retired life as a millionaire.
This May Pique your Interest: 7 Interesting Facts about Slot Machine
4. A mysterious player won $24 million
An anonymous Finnish poker won loads of cash on the Mega Fortune machine in Scandinavia. This 40-year-old Swedish poker has only wagered with a mere 25 cents and his fortune bagged him with $24 million.
And like some of the players who choose to remain quiet about their victory, he wanted not to disclose his name.
5. Elmer Sherwin won $21.14 million
World War II veteran, Elmer Sherwin is the two times million-jackpot winner of slot games.
He hit his first Megabucks jackpot of $4.6 million in 1989 at The Mirage in Vegas. Then, he used his winning money to travel around the world.
As he continued playing slots, sixteen years later, he hit his second Megabucks jackpot of $21.14 million. This time, he donated most of his winning amount to charity; a selfless way of utilizing the money.
6. An anonymous online casino player won $21 million
The fifth biggest win of slot games on our list is an anonymous person who won the jackpot from his mobile phone.
On 28 September of 2018, the player set a new record by breaking the previous record 'Largest jackpot payout in an online slot machine game' set by John Heywood in 2015. Heywood had won €17.87 million while the anonymous player hit the jackpot of €18,915,872.81 (around $21 million).
With the bet of just 75 cents, his insane luck favored and he became a millionaire by winning the massive jackpot on the online slot game.
So, you see, you do not need to go anywhere to become a millionaire when you have luck and an online casino on your phone.
7. An anonymous player won $20 million
Caesar's Palace in Las Vegas has awarded many jackpots to their winning players. Likewise, this player, who intended to remain out of the spotlight, won a massive $20 million in Megabucks in August 2017.
This anonymous player only spent a small amount i.e. $10 at an online casino, and he made a multi-million dollar out of it.
8. Jon Heywood won $17.87 million
The British soldier Joy Heywood won $17.87 million on the Mega Moolah slot machine by placing a 25-cent in 2015. Joy became a millionaire within 25 minutes of opening an account in Betway. The war veteran first spent his money buying a luxury Bentley vehicle and went on vacation with his family.
In his later interview, Jon stated his winnings saved his father's life as he used a good portion of the sums on his medical treatment.
9. An anonymous woman won $12.8 million
A mystery woman won $12.8 million after betting on the Megabucks series slot machine in the Aria Resort, Las Vegas. She had visited a casino just to celebrate her niece's birthday. But that visit bestowed her with the best present ever. After the party, she decided to drop $6 and won a whopping sum of $12,769,933. The lady planned to spend the whopping sum to clear her mortgage.
Her luck on that day was worth being praised.
10. Rodolfo T won $11.8 million
Again, Megabucks slots made a new millionaire creating the next history down the list when Rodolfo T popped into the Fremont in Downtown Las Vegas in August 2017. After some time he walked out of the casino with $11.8 million.
He had just spent $3 (yes you heard it right), only $3, sometimes even a petty sum can change your fortune.
11. D.P won $11.6 million
A player named D.P won $11.6 million while playing a Megabucks slot game. She was playing slots at the Zodiac Casino on her mobile.
Her luck favors her a lot on that day as she lands the right icons to trigger the slot jackpot. The wins in Megabucks incite other players as the game fuel the belief of winning a jackpot is possible.
12. An anonymous player won $8.82 million
This lucky woman tested her luck with just a dollar and won millions in 2016. She chose not to disclose her identity and the details about her were never revealed.
She was awarded $8.82 million while playing an unnamed slot machine on her iPad. It was indeed the best day of her life.
Final Thoughts
Even though the chance of becoming a millionaire instantly by playing casino games is rare, it is not impossible. There are other many players, besides above mentioned, who have hit multi-million dollars in slot games as well as other casino games. If we include them all, then the article will be lengthy.
So, it is not impossible for you to become a millionaire by playing casino games. But it won't come by itself. You must go and try for it. And in today's time, it is even easier to win when you have your smartphone with you wherever you go and can access online casino sites via the Internet.
Just grab your phone and play the best online casino slot games. You can find varieties of online slot games with appealing designs, graphics, and sound. Choose any that interests you.
You just need a strong will and some luck. What else would you prefer other than winning million dollar jackpot while keeping yourself entertained at your comfortable place?
Sign up with BetBarter today, and test your fortune on our top online slots.
Read More: Latest Sports Gossip News