Top 10 MMA Fighters
Amid the never-ending debate over the top 10 MMA fighters, we have brought you the list of the all-time great MMA fighters after meticulous research.
It was not easy to pick these MMA warriors from hundreds of the former and existing ones. However, we studied their ranking and the titles they have achieved to come out with something definite and concrete ideas about the top 10 MMA fighters of all time.
Let's find out from the article below whether your favourite has made it on the list or not!
Note: If you want to bet on IPL 2021 matches this September, we recommend reading our article on free IPL betting tips to improve your winning prospects.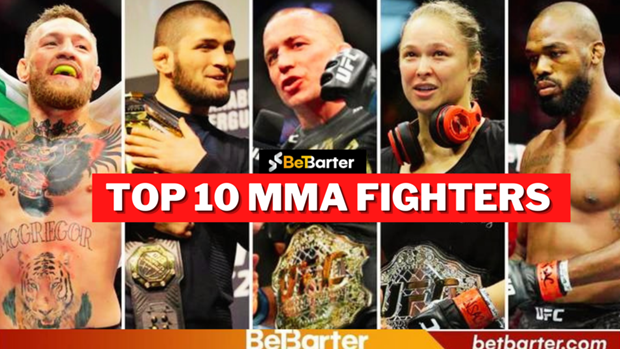 Who are the Top 10 MMA Fighters?
Let's take a closer look at the top 10 MMA fighters of all time.
1. Georges St-Pierre (GSP)
Georges St-Pierre possesses the most incredible all-around abilities of any MMA fighter in history. He had won UFC titles in the welterweight and middleweight categories and is widely regarded as the best fighter in MMA history.
St-Pierre has defeated heavyweights such as Matt Hughes, Nick Diaz, Carlos Condit, and BJ Penn.
He was ranked as the world's number one welterweight for many years, and he retired in 2013 with the most wins in championship fights and the second-longest cumulative title streak in UFC history. He finished his career with a record of 28 fights, 26 victories, and 2 defeats.
2. Jon Jones
Jon "Bones" Jones wasted no time in creating a reputation for himself in the UFC. At UFC 94, his spinning back elbow versus Stephan Bonnar was a star-making moment. Jones' first genuinely outstanding performance, though, was technically a defeat. He annihilated Matt Hamill only to be disqualified for illegal downward elbows. Hamill could hardly take it when he was declared the winner. That was his only loss in the UFC.
Jones was unstoppable from then on. He didn't simply thrash people. He annihilated them including 7 (yes, seven!) future UFC Hall of Famers.
The majority of his triumphs came in the form of finishes. You might argue Jones wasn't the same after his epic bout with Alexander Gustafsson. Despite this, he defeated Glover Teixeira and Ovince Saint Preux (without giving a round to either).
He defeated Daniel Cormier twice though one was overturned due to his positive drug test. Jones' previous fights haven't been very enjoyable, notably his razor-thin decision victories against Dominick Reyes.
Jones has advanced to heavyweight. Ngannou will be a significant challenge. But if anybody is up for the challenge, it's Jones.
3. Anderson Silva
Silva has a similar sort of resume that every fighter at the top of this list has: a 17-fight winning run and ten successful championship defences. Silva was a force of nature, apparently playing a striking game light years ahead of the guys he played.
Silva also fought three times in the light heavyweight class during his prime years defeating James Irvin, Forrest Griffin, and Stephan Bonnar. Silva didn't simply defeat guys; he decimated them while doing anything he pleased from bell to bell. The end of Silva's career came quickly and abruptly, yet he was the finest fighter in the world for years.
4. Demetrious Johnson
Demetrious 'Mighty Mouse' Johnson, the UFC's flyweight champion from 2012 to 2018, was recognized as an incredible pound-for-pound fighter over his whole reign. Johnson currently holds the record for most successful title defences in Singapore with 11, and he finished his UFC career with a 15-2-1 record.
Johnson made his UFC Bantamweight debut in 2011 and defeated Kid Yamamoto, a Japanese legend and Miguel Torres, a former European Championships champion.
5. "The Last Emperor" Fedor Emelianenko
"The Last Emperor" is one of the world's most popular MMA fighters. It stretches back to the PRIDE days, even before the UFC, and he's won championships in numerous promotions and defeated some of the sport's greatest stars.
Emelianenko won the PRIDE Heavyweight Grand Prix Final in 2004 and defended his title three times. He was also a WAMMA Heavyweight Champion and recently competed in the Bellator World Heavyweight Grand Prix final.
Fedor was the most dominant MMA fighter of his era, which is why he ranks fifth on our ranking.
6. Daniel Cormier
Daniel Cormier (DC) is a genuinely great combat athlete and one of the most well-known names in MMA. DC is one of the rare competitors in the UFC that holds championships in two weight classes simultaneously. He even went so far as to become the first boxer to defend crowns in two weight classes.
Cormier formerly held the UFC Light-Heavyweight and Heavyweight titles. He also won the Strikeforce Heavyweight Grand Prix. Cormier is now retired and works as a UFC pundit and analyst.
7. Khabib Nurmagomedov
Since capturing the lightweight championship against Al Iaquinta in 2018, "The Eagle" has established himself as one of the best fighters in MMA history.
Nurmagomedov created history against his arch-nemesis, Conor McGregor at UFC 229 in his first championship defence. He submitted "The Notorious" with his signature grappling abilities and similarly defeated Dustin Poirier a year later.
Nurmagomedov has an impressive record of 29 wins and no losses. He has successfully defended the UFC Lightweight Championship thrice against Conor McGregor, Dustin Poirier and Justin Gaethje.
He has already announced his retirement from MMA and he was at the top in the men's pound-for-pound rankings of the UFC at that time.
8. Jose Aldo
Jose Aldo is the first UFC featherweight champion following the WEC/UFC merger. In total, he has won the UFC featherweight champion thrice.
He was unbeaten for almost a decade and is widely regarded as one of the most dominant featherweights of all time. His sudden loss to McGregor makes some supporters forget how excellent he has been.
Aldo was a beast in the WEC, with 36 total fights, 29 wins, and seven defeats in March 2021.
He has defeated notable fighters, including Cub Swanson, Mike Brown, and Urijah Faber. Aldo is widely regarded as the finest featherweight in MMA history.
9. Conor McGregor:
McGregor has recently been outspoken on social media about his reputation as the best MMA fighter of all time. While he did not make the top five on the CBS Sports list, there is no doubt he is one of the all-time greats.
McGregor is a worldwide sensation due to his ability and desire to sell himself and because he is a dynamic and dangerous fighter.
His rise to the featherweight title was one of the most spectacular in UFC history. He knocked out Jose Aldo in 13-seconds and ended the fight.
He knocked out Eddie Alvarez to bag the lightweight title. With this victory, he became the only boxer in history to have won two weight divisions simultaneously.
The only flaw in McGregor's MMA record is that he failed to defend his featherweight and lightweight title. If he had defended the title, his name would be embedded in the legacy of champions.
10. Randy "The Natural Couture"
Couture has fought in 16 title fights and, together with Stipe Miocic, holds the record for most wins in UFC heavyweight championship battles.
Couture, the fourth member of the UFC Hall of Fame, is the only fighter over 40 to have won a UFC championship battle and is one of the few UFC champions to have claimed a losing title three times – once in the heavyweight class and twice in the light heavyweight division.
Bottom Line
There is a saying, "Everyone has the fire, but the champions know when to ignite the spark." The above mentioned MMA fighters have sparked their path with their hard work, dedication and perseverance.
You also require perseverance when betting on MMA matches online at the best sportsbook for online betting India, BetBarter. You will never grow as a successful bettor if you give up too soon after losing one or two bets.
To taste the nectar of success, you should have patience and a positive mindset. But don't fall into the fallacy that betting too long or too much will guarantee your win.
Bet wisely, setting your eyes on the bankroll and always bet on the trusted and reputable online sports betting platform – BetBarter India.
Register now at betbarter.com and enrich your MMA betting experience with impressive odds and a wide range of markets.
Best Wishes!