How Soccer Betting Markets Work?
A betting market is a place with the category of various odds that a betting site, bookmakers or sportsbook offer in their betting platform for the betting enthusiasts.
Once you start betting on soccer, you will slowly find out sub-categories of betting markets with different odds and wagering options.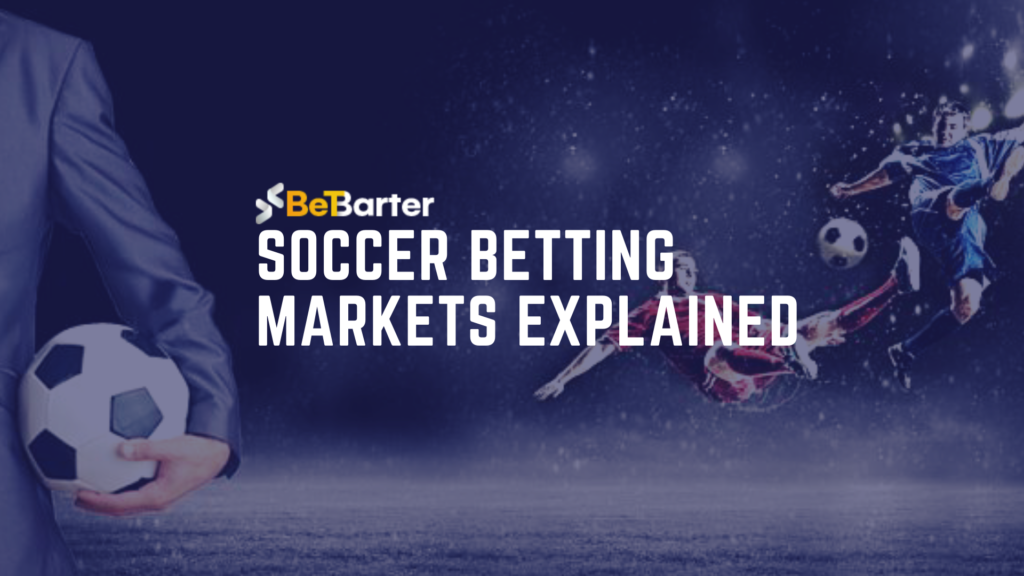 One of the reputable online casino sportsbooks of India named betbarter.com allows you to access hundreds of soccer markets for live and upcoming games all around the globe.
Whether you like to bet on domestic leagues, European leagues or international matches, Betbarter offers you the best odds in India.
So if you would like to enhance your odds in soccer bets, then look no further. Betbarter provides you with an opportunity to walk away with substantial payouts in soccer-related online bets.
Before registering in your preferred website for online soccer betting, consider learning about different types of betting markets.
Take your time to read this article and get first-hand knowledge about the popular soccer bets.
Key Football Betting Markets
3-Way betting: It is one of the simplest and popular sports bettings available in the market. Here, you have to bet either for a Home team, Away team or for Draw.
If your predicted team wins the match, you will be in profit. Or else, if you lose, you have to go empty-handed. Sometimes the game could result in a draw. Your prediction is all that matters in this type of bet.
1 or X: Either Home team should win or the match must end in draw
1 or 2: Any among the two teams must win
X or 2: Either the match must end in draw or the Away team must win.
Over-Under
It is a fascinating type of bet. Here you have to bet on a total number of goal scored by both teams in a match. The standard limit is 2.5 goals (over 2.5/ under 2.5).
For instance, you placed over 2.5 bets in the Premier League match between Manchester City and Arsenal. If the match results in 2-3 for Manchester and Arsenal respectively, you will win the over bets as the total goal score will be five.
But if you place under 2.5 bets on this match, you will lose your bet. Total goals scored in the match by both teams should not exceed 2 to win on under 2.5 bet.
Both Teams to Score
Some of the bookmakers or sportsbook describes this market as "Goal-Goal/No Goal". It implies that you have to bet either on 'goalless draw' or 'both teams will score'. You will get an option of 'Yes' or' 'No' if you are selecting your bets accordingly.
For example, if you predict both team scores, then choose the 'Yes' option on the screen. Or else if you anticipate that both teams will not score, and the match will end as a goalless draw, you have to confirm the 'No' option.
Total Goals
If you succeed to predict the range of goals scored in a match, you will win this bet. A range could be 0-1 goals, 4-5 goals, 6 or more goals.
Asian Handicap
Asian Handicap betting became popular throughout Europe after it gained traction in the Asian markets. If you are going for Asian handicap betting, you have to choose one team predicting how it will fare in the match with a head start.
Let us suppose that, in a match between Liverpool and Leicester, the handicap bets given to two teams are -1.5 & +1.5 respectively. Here the team who scores the most with a handicap is declared the winner.
For example, if you choose Liverpool to beat Leicester, then Liverpool should win the match by two or more goals. But if Liverpool fails to do so, you will lose your bet.
Half time-Full Time
In this type of bet, all you have to do is correctly predict the outcomes of both Half Time and Full-Time of a match.
Among the nine different options (Home-Home, Home-Draw, Home-Away, Draw-Home, Draw-Draw, Draw-Away, Away-Home, Away-Draw, Away-Away), you have to choose one option and place your bet.
Anytime Goal Scorer:
Soccer team consists of 22 players. Eleven players play on the field while remaining players sit on a bench waiting for coach decision for substitution.
During the game, the coach can switch the playing position and replace any players from the team. So each player has an equal chance to score a goal.
So if you want to win this bet, you have to bet on a player who will probably score in the game.
Yellow/ Red Cards
It is one of the risky yet exciting kinds of bet. In this type of bet, your task is to predict which team will concede more yellow cards and place your stakes on it.
Some bookies allow wagering whether or not referees pull out a red card against a player in a match.
Score/Miss Penalty
Unless you like to take extreme risk, it is better not to bet on this type of bet. But for the high-risk taker, it could be highly entertaining bet as well.
In a soccer match, any team can earn a penalty kick in case of foul by the opponent in the penalty area. The match may also end without needing to play penalty by both teams.
In this type of bet, you must predict whether the team will score or miss in penalty.
Conclusion:
You can bet on any of the soccer betting markets mentioned above through a trusted and licenced online betting platforms in India. To maximise your winning chances, you can also use the best soccer betting tips to your advantage.
BetBarter is one of the top online betting sites in India that offers a range of betting opportunities with competitive odds. You can try your hands on all types of bets by browsing on this site.
You will find a piece of substantial information online about different types of soccer bets, but unless you gain proper knowledge about the soccer itself, you cannot be a seasoned bettor.
So, learn while you can and make the most out of your soccer knowledge betting on your desired market.