The Mathematics of Roulette
Roulette is a deceptively simple game for absolute beginners for betting. It's not rocket science to place your chips on your chosen number and predict the ball to land on the selected number compartment. But things don't work linearly. There are several methods and strategies to bet on Roulette, and they are primarily based on mathematical calculations.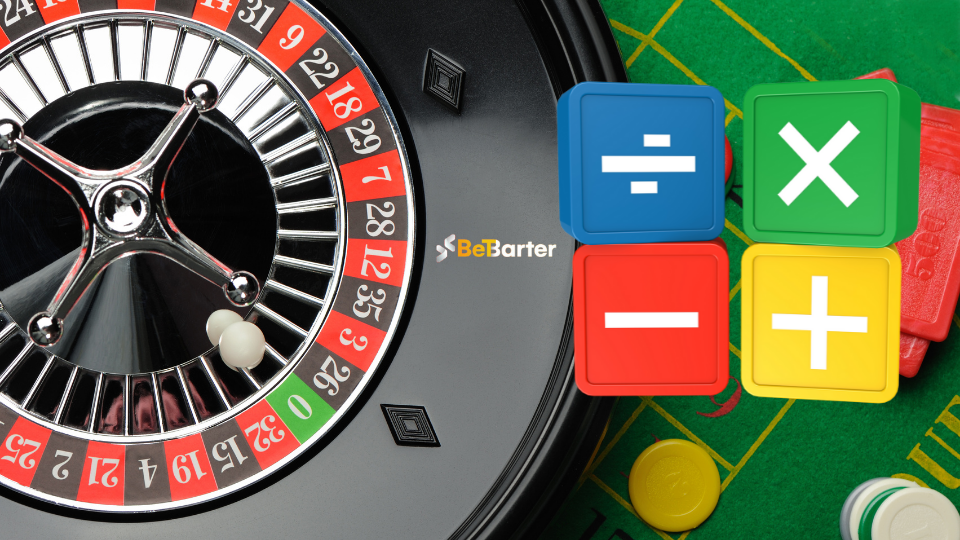 Today, in this article, we will analyze the online casino roulette game from the mathematical level. It will help you learn whether or not it is possible to master the game of Roulette and become a successful gambler in the future.
Let's dive in!
Mathematical Facts about Roulette
Not every casino game requires complex math concepts to explain the strategy. One example is Dragon Tiger casino game which is simple and straightforward game. For Dragon Tiger game winning tricks, click the link.
Online Roulette falls into different category. Without associating math, one cannot have a complete understanding of the game of Roulette. So for your information, here we've presented you with the math facts about Roulette.
1. The odds on Roulette aren't as bad as you think
Some players can be skeptical about the Roulette odds but it isn't as bad as you think. Once you get hold of its concept, your doubt will be clear. The odds are the probability of winning, and for Roulette, it is calculated based on the numbers available on the wheel compartment.
Depending on the Roulette variant, the wheel has either 37 or 38 numbers or spaces. You will generally find 38 pockets on the American Roulette wheel including single zero '0' and double zero '00' whereas European Roulette wheel consists of 37 pockets with only single zero and numbers ranging from 0-36.
Suppose you are playing European Roulette and place your bet on number 23. In this context, your odds will be 1 out of 37.
Similarly, if you bet on red, your winning probability is 18 out of 37 or 18 out of 38 depending on the roulette variant. As you can see, you have better odds of winning on a red bet than in number 23. However, bet on red pays out at odds 1 to 1 and bet on 23 pays out at odds 35 to 1 on winning.
Now it is you to decide whether to go for better odds or the highest payouts. Hope now you are clear about how odds work in Roulette.
2. The house edge remains same for all bets in roulette.
Odds and payouts determine the house edge in roulette. The house edge defines the long-term results of roulette. It is a mathematical fact that can tell you how much money you will lose if you place a significant amount of bets on the roulette wheel.
A great amount of betting is that there is a plenty of room for volatility in a short amount of time or with a small number of spins.
However, when a significant amount of wagering is made, the volatility will decrease, and the results will reach the expected value.
Don't worry if this all seems too mathematical to you. Here is a brief summary.
When you know how much you are likely to lose, multiply the house edge by the total bet. The house edge is 5.26 percent for roulette with both zeros (single zero and double zero) and 2.7 percent for roulette with only single zero.
If you wagered $25 per spin and played 10,000 spins, you can calculate how much you would lose.
You will lose $6,750 if you play a 2.7 percent house edge wheel. If you play a wheel with a house edge of 5.26 percent, you lose $13,150.
While this is disappointing as it means that you are expected to lose because of the house edge in the long run.
The good news is that all bets on the roulette wheel have the same house edge, so it doesn't matter which bet you choose.
3. En Prison rule changes the game
Seasoned roulette players know a hidden rule that is only available at certain roulette tables especially in land based casinos. This is known as the En prison rule, similar to the surrender rule in American roulette.
The En Prison rule works as follows.
If you place a bet on Red or any other bet that pays 1 to 1, you will usually lose your bet if the ball lands on zero. But the roulette table with En Prison rule places the bet in prison for the next spin. If you win on the next spin, your bet is returned to you.
The En Prison rule is only available at French roulette tables. The name of the table, on the other hand, is not important as the casino can call it anything.
With this rule, the return on even money bets is 98.65% with a house edge of 1.35%. This is way better than any other roulette table option.
4. Biased wheel doesn't exist today
In the past when the deficiencies could be found in roulette wheels, Einstein made an amusing remark about Roulette saying, "No one can win at Roulette unless he steals money from the table while the croupier isn't looking."
Legends say he made this remark after visiting a casino in Las Vegas. He pointed out that nobody can win at Roulette unless the player manipulates the game, but now this is impossible in both physical and online casinos.
Before, only land-based casinos existed, and some roulette wheel were biased that smart players could track the results and bring the game in their favor.
As time changed, technology got advanced, and it became impossible to cheat on Roulette. Now the roulette wheels show random and fair results, and casinos also easily detect the biased wheels and replace them.
5. You won't find any betting system that guarantees your win
Now you know how the odds and house edge works in Roulette and your chances of winning. Since mathematics is concrete, it cannot be influenced by any system. Everything is set beforehand, so all you can do is to try the betting variation and pray for luck to bless you at the right moment. No matter what Roulette system you use, you cannot impact the house edge and Return to Player (RTP).
Even the popular Roulette strategies like Fibonacci and Martingale cannot impact the house edge and RTP. Thus, it is recommended to stick with a single bet at the table minimum every time you play.
Bottom Line
Hence, these are the five math facts you should know about the Roulette game. Knowing these facts help you make a wise betting decision to stand a chance to win the game.
Also, make sure you play the online roulette real money India at BetBarter to enrich your gambling experience.
Be calm and play responsibly! Since the outcome is not in your hand, your ultimate aim should be to have fun.
Best wishes!