Introduction to World Popular Cricket Leagues
The first Twenty20 Cup of T20 Blast was the inaugural T20 competition globally which began in 2003 and hosted first-class county clubs from England and Wales.
Since then, several nations have established their Twenty20 competitions to generate revenues and introduce new and talented players.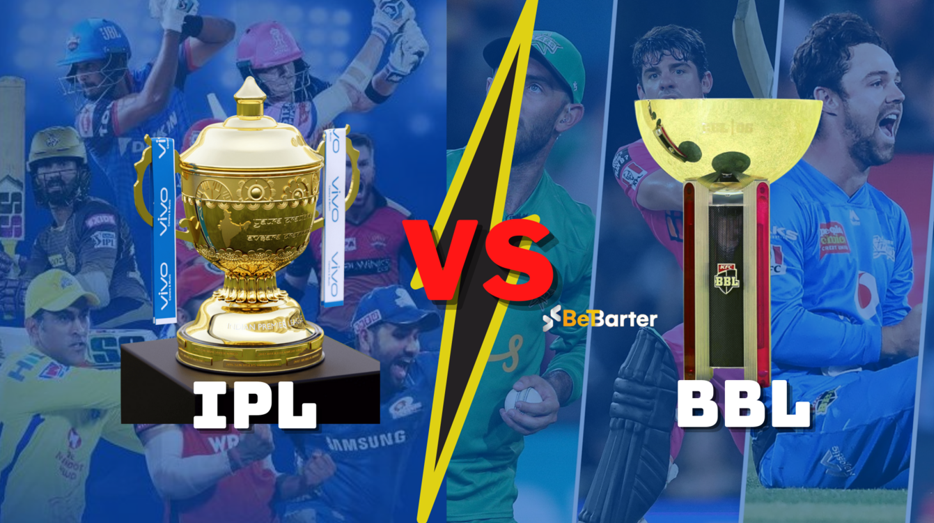 However, the Indian Premier League (IPL) and the Big Bash League (BBL) are the world's greatest and most exciting T20 competitions.
They generate a large percentage of their revenue from brand sponsorship as they have the highest TV viewership and massive fan following.
IPL has topped the BBL in terms of popularity and viewership. In 2020 alone, the IPL had a total of 400 billion viewing minutes on TV.
Interestingly, this is a 12.4% increase over ICC World Cup 2019 that was watched for 356 billion minutes on TV. This figure shows that half of the Indian TV viewers watched IPL in 2020.
Interesting right? Well, this is not the end. We've got more interesting things to discuss. Before heading into that, you can read our IPL betting tips if you want to profit from IPL betting online.
In this article, we've presented you with a comparison between Indian IPL and Australian Big Bash Cricket League to help you find a profitable betting opportunity in India.
Let's dive in!
IPL vs. BBL Prize Money
When it comes to the sheer volume of money involved and the variety of star power, IPL T20 cricket is the ultimate trendsetter. Although there were already popular T20 leagues globally, the popularity that IPL gained after the ICC T20 world cup in 2007 is incredibly astonishing.
The IPL tops all the major T20 domestic cricket leagues in the world in terms of prize money.
This money-spinning tournament awarded ₹20 crores to the champions and ₹12.5 to the IPL 2020 runner-up. Likewise, the two losing qualifiers, Royal Challengers Bangalore and Sunrisers Hyderabad bagged ₹4.375 crores each.
Comparatively, the winner of 2020 BBL grabbed ₹2.45 crores (AU$ 450,000), which is quite less than IPL prize money for champions.
Even with the recession brought by the COVID-19, which saw a 50 percent cut on the IPL 2021 Champion prize (as announced by BCCI), it is still bigger than the BBL prize money.
This figure proves that the IPL is the behemoth of world cricket. With the opportunity to win big prizes and the most coveted trophy, the teams and players put their best effort on the field, bringing excitement to the fans and spectators.
On this note, IPL betting enthusiasts worldwide have a lot to be excited about.
IPL vs. BBL Franchise Strength
Both the T20 leagues feature highly competitive and nail-biting games. However, IPL has the best franchise strength. In the last five years, three different teams have lifted the coveted IPL trophy with the help of highly talented players.
In contrast, four different franchises have become the BBL championship as their players are exuberant and talented but not quite close to IPL.
IPL vs. BBL Team Composition
The IPL teams include the best and world-class cricketers along with some domestic talents. As a rule of thumb, each IPL team must include between 18 to 25 players. Each team is allowed to sign a maximum of 8 overseas players, out of which, only four overseas players can be included in the playing XI.
A team can pick an Under 19 player only if he has played List- A or First-class cricket. And no matter how rich the franchise is, they cannot spend more than 850 million for the salary of their squad.
Talking about BBL, each team can include a maximum of 19 players in the squad. The squad should consist of two rookies and six overseas players. For a particular match, a team can include only three overseas players in its playing XI. A franchise can substitute a maximum of two overseas cricketers if the original overseas players face injury or withdraw from the game.
Bottom Line
There are several differences between IPL and BBL T20 League, and while it is not too easy to decide which one is better, they both have their pluses and minuses.
In terms of stadium view, the BBL is like a million times better than IPL as you can watch BBL matches from special cabins and swimming pools with cozy seating.
IPL beats BBL in terms of popularity and inclusion of the world-famous batsmen and bowlers.
On the other hand, the IPL team Jersey is way too dull compared to the bright and colourful outfit of BBL teams.
The playoff theme of BBL is more innovative and advanced as the top 5 teams qualify for the playoff, but only four teams climb the playoff ladder in IPL.
Surely in terms of betting markets, there is not much difference between BBL and IPL as in both leagues, you will find the better and competitive odds offered by the bookmaker.
Every best online betting India casino, such as BetBarter, offers a wide variety of IPL and BBL betting markets, providing the best odds.
While both T20 leagues provide you with rewarding betting opportunities, betting on IPL can be more fun and enthralling especially if you are an Indian bettor.
After all, nothing exceeds the experience of betting on one of the biggest T20 leagues that feature the world's greatest players competing against each other.