On this page, we will cover everything about a new live casino game "Rock Paper Scissors" developed by BetGames.TV. Read and discover how to play the game online, game payouts and the best online casino to try this game.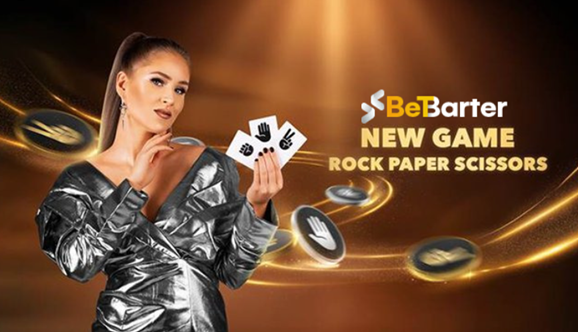 Rock Paper Scissors is an entertaining live casino game based on a widely played social game of the same name. This traditional game features three different hand shapes, rock, paper, and scissors. The game is similar to the original version we all played when we were children.
This casino game is developed by BetGames.TV, who are well known for their innovative and intuitive gaming interfaces. This top-notch provider has successfully combined the game with speed and simplicity.
Want to know more about the game so that you can play this game at your best online casino on real money? Just scroll and keep reading!
How to Play Rock Paper Scissors Live Casino Game?
Rock Paper Scissors is played with 24 decks of the card in the casino. Out of which, eight cards denote rock symbol, eight denotes paper symbol, and the remaining eight denotes scissors symbol.
The game begins after each player places their bet. Each betting round lasts for 20 seconds where you will be betting against the dealer. The dealer will be seated around a table that is divided into two colours: – Silver Zone and Gold Zone.
The player can choose to bet on either one or two zones but can only place one bet on each. The wager you place is up to you and can either be of the same amount or a different amount for two zones.
After you have decided on your preferred symbol, the female dealer of the game deals a single card on both zones from a deck of 24 cards. If the symbol you select beats the symbol on the dealer's card, then you win.
Rock Paper Scissors Symbol Rankings
There are three outcomes of this exciting game, and the symbol ranking of the game is similar to that of the traditional version.
Rock beats Scissors – As rock can blunt the scissor
Scissors beats Paper – As paper can be cut by scissor
Paper beats Rock – As paper can cover the rock
In the case of the same symbol, the game will be a tie.
Rock Paper Scissors RTP, Payout, Minimum & Maximum Stake
The RTP of this fast-paced game is 5% which is similar in both the gold and silver zone.
Rock, Paper, Scissors offers two concurrent games in a single round. They are:
The payout for both these sides is different. The silver side provides a slightly lower payout, which is 1.85 times your bet. However, the payout for tie bet on this side is much higher and you can recover a full wagering stake.
For the gold side, the payout is larger, but the return is small in case of a tie bet.
The stake range of Rock Paper Scissors is $1-$100.
Rock Paper Scissors Strategy
Below are some of the few strategies to increase your winning chance in this game. Check them out:
Always bet on the silver zone as this side will allow you to play for a long period. Also, the return on the silver side is 100% of your stake.
Avoid the gold side. Although this side offers bigger payouts, it also involves more risk.
Never bet on both sides. In this case, you may wager on a risky gold zone.
Where to Play Rock Paper Scissors Live?
Today, numerous online casinos offer this live casino version of a simple hand game. However, before choosing a casino site, you must consider multiple factors. Some of these include security, gameplay, wagering requirements, bonuses, and payouts.
You can choose our site BetBarter India, which is licensed and regulated under Curacao Authority. This means your details are safe with us. Plus, we offer incredible bonuses and promotions for our new and loyal players.
Additionally, we also offer a wide range of casino games from top providers such as NetEnt, Betgames, Microgaming, and many more. So, browse our site right away and check our incredible game collection.
The Bottom Line
With the above knowledge, you're all set to try this exciting game developed by BetGames.TV. Try it once during your next visit to the casino as the game is packed with huge entertainment factors and potential payouts.
Rock Paper Scissors is the simplest casino game with a modern twist and incredible payouts. The game rules and mechanics are straightforward, which provide the players with ease and interactive fun along with the best gaming experience.
Before you begin, make sure to understand the game objective, gameplay, and few hacks to master the game. And once you learn this, you'll surely walk home with a good amount of profit.
Side Note: We have also written a guide for another simple and fun casino game Andar Bahar. To read the guide, click on the link: How to play Andar Bahar