If you are one of those players who love to enjoy the thrill of the Roulette Casino game & seek its other variants, then immersive Roulette is definitely for you.
With its realistic gaming experience incredible graphics, special bets, & their features immersive Roulette casino game mesmerizes every player from the first spin of the wheel till the end.
Now, without ado, let's jump directly onto our today's article to discover everything about the game, its strategies as well as where you can play it.
Side Note: If you want a few suggestions for any of the casino games like Andar Bahar, then check our guide on how to play andar bahar.
Ready? Let's dive in!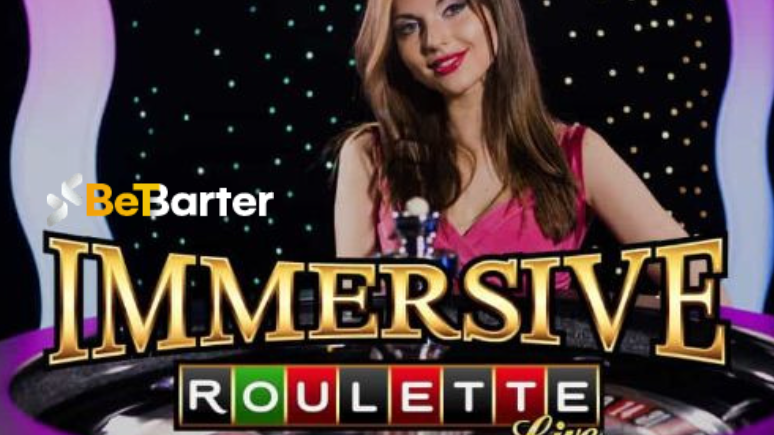 What is an Immersive Roulette Casino Game?
Immersive Roulette by Evolution Gaming, the most popular software developer of live games, is one of the biggest roulette variants to hit the internet in the year 2013.
This live roulette game offers a perfect blend of the atmosphere for players with its superb player interface which players can enjoy from the comfort of their home on the mobile device.
Plus, the game suits perfectly for both high-rollers and players on a tight budget. Immersive Roulette is a unique and, superior quality that has the touch of Hollywood, this advanced roulette variant gets players a close-up view of all the live-action.
This feature gives the player a hyper-realistic gaming experience with a real dealer, roulette wheel, betting table where players can communicate in real-time.
After the wheel is spun by the live dealer, players can see & follow every movement of the ball until it comes to rest. So, this makes it hard for players to peel their eyes away from the moving lifelike ball as it drops on the winning number.
How To Play Immersive Roulette?
The rules of this game are the same as French Roulette & European Roulette. So, if you have already tried both of them then it won't be tough for you to master this variant of Roulette.
The main side of the game is to predict the number on which pocket the ball will land after completing its spin.
The game comes with 37 pockets, one zero, and 36 have numbers. You aren't restricted to betting on numbers and can wager on any bets such as 0-36, odds or evens, column bet, corner bet, red or black, and others.
Once the wheel is spun, the ball will come to rest in any of the pockets and if it ends up on your guessed number, then you'll win the game. The minimum and maximum bet in the game vary from €1 to €2,000.
So, it's up to you to place either small bets or go wild like professional roulette punters.
Immersive Roulette Betting Limits & Payouts
The paytable is similar to most online roulette games and its return to player percentage of 97.30%. If you're unaware of the payout of other variants, then check the table below:
| | |
| --- | --- |
| Bets | Payout |
| Straight-up | 35:1 |
| Split | 17:1 |
| Street | 11:1 |
| Corner | 8:1 |
| Line | 5:1 |
| Dozens | 2:1 |
| Outside Bets | 2:1 |
| Columns | 2:1 |
| Even/Odd | 1:1 |
| Red/Black | 1:1 |
| High /Low | 1:1 |
Immersive Roulette Strategies
Although the game is based on luck, there are some tactics that can help you to improve your chances of winning.
Here we have compiled three of the key steps that will lead to a win & win situation. They are as follow:
a. Even Bets
This is one of the safest and smartest ways to play immersive roulette as it offers the best odds i.e., a 48.64% chance of success in every bet. In such bets, you simply need to stick to the 1:1 betting option.
Although the return on even bets is low and slow, if you're patient and luck is in your favor, then you will surely walk home with a good sum of profit.
b. Spread Bets
Another effective strategy is to place your bet on spread bets on single numbers. Spread bets allow punters to bet on several numbers and the more numbers you wager on, the greater the chance of landing a prize.
This hack is perfect for punters who want to win big in a short period. However, the issue with this strategy is that a huge amount of risk is involved as betting on too many numbers requires a good sum of money.
c. Doubling Up
Doubling up simply means to double up your stakes after every victory. This system is generally played on the even money bets and the payouts of it are very rewarding and the winning streak is simply fantastic.
With this strategy, you can boost your bankroll high, but at the same time losing money is unavoidable. Also, you may chase after losses in the attempt of recovering them and may fall into more serious problems.
Where To Play Immersive Roulette?
These days, immersive roulette is available online at various bookies that offer casinos online and other games. You can enjoy the game from any reliable and trusted online betting platform. However, for the best online casino experience, you can pick BETBARTER, India.
At BETBARTER India, you will get good sign-up offer and loyalty bonuses that players can take advantage of. Also, there is a wide range of casino games and the best odds for players.
So, what are you waiting for? Register now and grab the offer.
The Bottom Line
To round this out, the Immersive Roulette live casino game offers fun, excitement, & thrill for both – Novice & Pro Player. There is no doubt that this game is the perfect game for any age & budget punters.
Since the game comes with immense opportunities to win big time if you follow the right strategies & plan your bankroll limit before playing at any bookies.
In addition to this, remember to gamble responsibly while playing the Roulette variants with live dealers in an online casino platform.
Good Luck & Happy Betting!