Gonzo's Treasure Hunt by Evolution Gaming is a popular and exciting live casino game that takes a player on an adventurous journey. If you are wondering how to play this popular live dealer game, then look no further.
In this article, we discuss the step-by-step guide to play this slots-inspired live game and also talk about where you can get the best experience of the game.
So, let's begin with the article!
How to play Gonzos Treasure Hunt?
Gonzo's Treasure Hunt can seem a bit overwhelming at first as a lot is going on in it. But once you learn the basics of the game, you will find it very fun and interesting to play this live game show at your best online casino.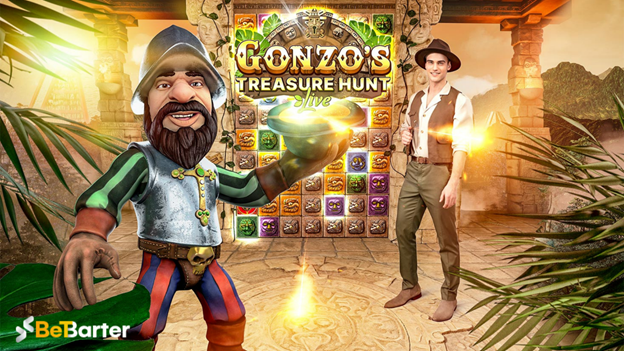 When you first enter the game, you will be greeted by a live dealer host who is dressed up in fun adventures clothes and the Gonzo himself. You will see giant 10 by 7 grid walls on your screen with 70 stones. This is where you will be hunting for prizes.
On the bottom of the screen, there will be six different colored tiles where you can place your bets on. Each tile will have a multiplier win amount of 1x, 2x, 4x, 8x, 20x or 65x on it. You can also place your bets on all multipliers by using the "bet on all" option. Or you can bet different amounts on any tile you want.
Brown coloured stones are worth 1x
Orange coloured stones are worth 2x
Purple stones are worth 4x
Green stones are worth 8x
Blue stones are worth 20x &
Red stones are worth 65x
Below is the step-by-step guide to playing this awesome live casino game:
Place Your Bets and Choose Your Picks
The game begins by placing your bet on the colorful stone tiles you want to bet on. As soon as you have placed your bets, you will need to select the number of picks that you want (1 or more). Each pick will allow you to select one stone on the wall and is represented by a hand symbol above the betting options. Your total bet will be the combined number of bets placed on the stones multiplied by the number of picks you opt for. For example: if you make a total of Rs 1000 in bets and select 4 picks, then your total bet will be 4 x 1000 = Rs 4,000.
Make your Picks on The Wall
After you select your bets and number of picks, the hunt for the treasure begins. All of the masked tiles are shuffled, and each of the stone's values will be concealed.
You then select your stones on the wall to reveal the winning symbols. It is a guessing part. To do this, you just need to click on the stones on the wall that you think will unmask the stone blocks that you have a bet on. You can see how many stones blocks you can select in the user interface.
When picks have been made, Gonzo will turn the key to activate the Prize Drop. During the prize drop, the top two rows of the wall will start spinning in which one of the rows will carry three different kinds of prizes and one row will either carry stone blocks or empty positions. The wall will then stop spinning and if a prize is located over an empty position, it will be activated.
These are the different prizes:
Bonus winnings of x3 – x100
Bonus multiplier of x2 – x10
Re-drop symbol
If the bonus winning values land on one of your picks, these will increase the payout of that pick. If you get the multiplier from 2x to 10x, it would multiply all visible values on the wall. And if you manage to get a Re-Drop, this will trigger a new price drop. The Re-Drop symbol is extra exciting since it will be making it possible for one stone to receive several multipliers and bonus prizes.
All the Hidden Values Are Revealed
When the prize drops stop, all the values of the wall will get revealed and you can see if you won any stones. You will only get paid if the revealed block is the one that you have placed your bet on.
If you won a stone that received a Bonus Prize, the bonus price will be added to the stone's standard payout and hence your winning bet will be multiplied by the winning stone's final value.
Payouts And RTP
| | | | |
| --- | --- | --- | --- |
| Stone Blocks to Bet On | Payout of Blocks | Number of Blocks | RTP |
| Grey | 1x | 27 | 96.42% |
| Orange | 2x | 20 | 96.51% |
| Purple | 4x | 12 | 96.35% |
| Green | 8x | 7 | 96.56% |
| Blue | 20x | 3 | 96.55% |
| Red | 65x | 1 | 96.52% |
Where to Play Gonzo's Treasure Hunt India?
If you want to play Gonzo's Treasure Hunt Live on real money at a live casino in India, then we recommend you to choose a secure and reliable live dealer casino site like BetBarter. Bet Barter is a top betting site in India, licensed and certified by Curacao Gaming Authority.
You can also practice the demo version of the game before becoming more adventurous with your bets. As you get more comfortable with the gameplay you can start betting on it for real money.
Conclusion
We have covered all the steps that will be useful to you to start playing this exhilarating live game show. We hope that this beginners guide was helpful to you and if you love the concept of the game, then you should give Gonzo's Treasure Hunt a try. Evolution Gaming has put a lot of effort into making this popular live game to charm your socks off.
Besides Live Gonzo's Treasure Hunt, BetBarter also offers plenty of casino games like Baccarat, Roulette, Slots, Craps, Poker, Blackjack, etc. and also betting on a wide range of sporting events. Sign up for BetBarter today and get a chance to win huge promotional bonuses and rewards.
We have also written an article on Betgames tips, click the link if you are interested to know the ways to improve your winning chances on lottery-based Betgames.