Looking for a unique and exhilarating live casino game show? Cash or Crash Live by Evolution Gaming is there for you.
In this article, we will provide you with a rundown of this amazing live casino game.
Read this guide and enjoy playing Cash or Crash at your favourite online live casino.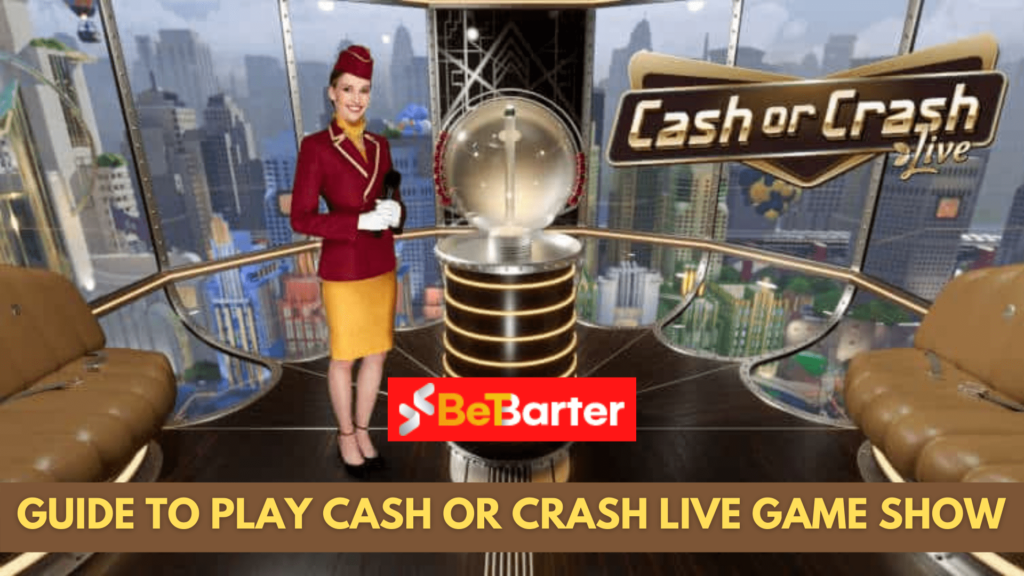 Introduction to Cash or Crash Game
Cash or Crash is a new live casino lottery-type game show by Evolution Gaming.
Evolution has come up with this game after the success of its other two lottery-type games Crazy Time and Monopoly Live. The game was released on the 3rd of September, 2021.
The game takes place in a virtual blimp cruising high above a bustling city. The game uses a bingo machine for the selection of balls to decide an outcome and is presented by a game show host.
Cash or Crash features just one bet but offers huge potential winnings to players.
Also Read: How to Play Andar Bahar?
How to Play Cash or Crash Live Game Show
Three are three types of colored balls in the ball drawing machine: Green, Red, and Golden. Altogether, the machine contains 28 balls (19 green balls, 8 red balls, and 1 golden ball).
The green ball allows a player to climb up the ladder.
The red ball is unlucky for players as it causes the blimp to crash and the round will come to an end with a player losing all the money he/she has on the ladder.
There is only one golden ball and this ball acts as a shield that prevents crashing with the selection of the next red ball. Also, the golden ball increases the winning payouts on the ladder with the appearance of the next green ball.
The objective of such best live casino games is to get up the ladder as high as possible with the draw of green or gold balls but avoiding red ones.
To start the game, you have to place a bet. Bets will be opened for about 20 seconds. The paytable will show how the winning payout increases with the landing of each green ball. After the bets are placed by players, one ball will be chosen randomly like a lottery.
If the selected ball is green, then players get three options to proceed: Continue or Take Half or Take All. If you choose the Take All option, your winnings will be secured and the round ends.
If you choose to Take Half, then your current winnings will be split and you remain in the game with half of your current amount. If you select Continue, you stay in the game by placing all your winnings on the line to win big.
The decision made by other players is shown as a percentage for each option. This can help you for making your choice. The round of the game also ends when a drawn ball is red or you get to the top of the ladder.
The higher you climb up the ladder, the bigger the payouts.
Cash or Crash Live Game Payouts
Below is the payout table of the game.
| | | |
| --- | --- | --- |
| Paytable Level | Payout Before Shield Gets Broken | Payout After Shield Gets Broken |
| 20 | 18,000x | 50,000x |
| 19 | 6,800x | 11,000x |
| 18 | 2,900x | 4,000x |
| 17 | 1,200x | 1,500x |
| 16 | 550x | 760x |
| 15 | 310x | 360x |
| 14 | 160x | 175x |
| 13 | 95x | 105x |
| 12 | 54x | 62x |
| 11 | 33x | 36x |
| 10 | 21.5x | 24x |
| 9 | 15x | 16x |
| 8 | 10x | 10.5x |
| 7 | 7.1x | 8x |
| 6 | 5x | 5.6x |
| 5 | 3.6x | 4x |
| 4 | 2.7x | 3.1x |
| 3 | 2x | 2.2x |
| 2 | 1.6x | 1.7x |
| 1 | 1.2x | 1.2x |
In the case of a normal paytable (before the shield is broken), the maximum payout multiplier available is 18,000x at level 20.
However, with the involvement of the golden ball in play, the maximum payout multiplier available is 50,000x at level 20.
Cash or Crash Game RTP
The optimal expected RTP (Return to Player) for Evolution Cash or Crash Live is 99.59%. This is one of the highest RTP in entertainment casino games released by Evolution Gaming.
Where to Play Cash or Cash Game Live?
You can play this fun live casino games real money at any online or live casino site that has a license to offer this Evolution's game. Make sure that your chosen site is licensed under the concerned authority and properly regulated.
You can go for a trusted, safe, and reputed online casino platform to be on the safe side.
If you are from India, you can choose BetBarter to play Cash or Cash Game Live on real money. BetBarter is an online casino licensed under Curacao Gaming Authority and the casino is dedicated to providing a safe and hassle-free gambling service to players.
BetBarter India is at the forefront when it comes to offering a top-notch live casino gambling experience. The site is friendly to Indian casino players with the availability of a feature like translating the site into the Hindi language.
Also, the site houses Indian card games such as Andar Bahar and Teen Patti. Click this link to know what the casino has to offer: Online casino promotion bonus.
Conclusion
Evolution Cash or Crash Live is a fun live casino game that provides you with a good level of entertainment with the possibility of winning big payouts. If you enjoy playing lottery-style games, then you can try this new game by Evolution Gaming.
The game is engaging to players as they get to decide whether to cash in all or half or risk all and continue the game. The game suits both novice and seasoned casino players with all sizes of bankroll.
Always play casino games from a legitimate online casino platform like BetBarter. Gamble responsibly and have fun.