Introduction to Evolution Crazy Time
Crazy Time by Evolution Gaming is considered to be a successor of the popular and giant casino game, Dream Catcher. This live casino game is one of the latest releases of this well-known software house product.
Despite being launched recently, Crazy Time has succeeded in winning the hearts and minds of many players. The reason behind its immense popularity is due to its simple rules, amazing characteristics, advanced technical features, excellent theme, and design. Additionally, its amazing bunch of bonuses which can lead to a payout of 25000x player's stake is simply incredible.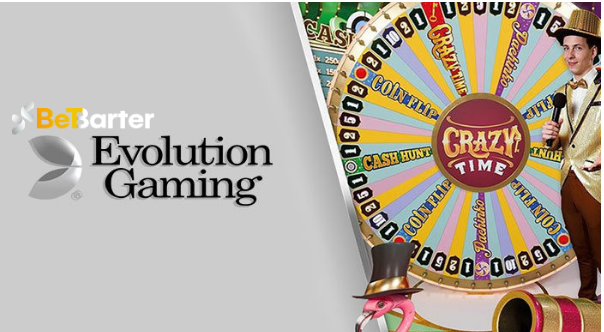 If you're also overwhelmed with its appealing features but don't know from where to begin, then this article will serve you as a primer.
In this article, we will cover everything you need to know to play this casino game in real money including Crazy Time rules, its winning payouts, and various available bonus features.
Side Note: In case, if you're interested to know how to play Andar Bahar at an online casino for real money, then click on the link.
Now, let's get started with the rules of Crazy Time.
Crazy Time Rules
The game consists of a colorful and giant money wheel that has 54 different slots which are represented via 8 different sections. These sections either contain a number (1, 2, 5, or 10) or a bonus round.
The player can place a bet on any of the scattered numbers on the wheel. The main aim of the game is to predict the number where the flapper will stop before the host spins the wheel.
How to play Crazy Time?
The game starts with players placing a bet on the number or bonus game. Once everyone places their bet, the host/hostess spins the giant money wheel.
If you have placed a bet on a number and the wheel stops on the segment where you've placed your bet, then you'll win the amount. On the other hand, if you have placed a bet on a bonus and if it coincides with where you've wagered on, then the bonus round will get activated.
Additionally, there is also a Top Slot that will spin together with the money wheel. This slot features 2 reels that generate a random multiplier for one bet spot, either a four bonus game or number.
If the bet spot and multiplier align horizontally, the multiplier will be added to win or the bonus game. Crazy Time is a game loaded with excitement and incredible bonus features, so make sure to bet on the bonus game to grab the bonus payouts.
Crazy Time Payouts and RTPs
In the table below, we have listed the bet spot, the number of available segments, payout, and RTP of Crazy Time.
| | | | |
| --- | --- | --- | --- |
| Bet Spot | Number of Segments | Payout | RTP |
| 1 | 21 | 1:1 | 96.08% |
| 2 | 13 | 2:1 | 95.95% |
| 5 | 7 | 5:1 | 95.78% |
| 10 | 4 | 10:1 | 95.73% |
| Cash Hunt | 2 | Special Bonus Game | 95.27% |
| Coin Flip | 4 | Special Bonus Game | 95.70% |
| Pachiko | 2 | Special Bonus Game | 94.33% |
| Crazy Time | 1 | Special Bonus Game | 94.41% |
Game Bonus Features
Crazy Time offers four different bonus features and many players play this game solely to win this impressive bonus. The bonus that can be accessed when playing this exciting game are:
Cash Hunt Bonus Game
This is a virtual shooting gallery that consists of 108 random multipliers. The prizes/multiplier will be covered and hidden by the icons.
As a player, your objective is to shoot a target where you believe the largest multiplier lies. Once each player shoots their target, the symbols will be converted to the multiplier and each one will be rewarded with different wins.
Coin Flip Bonus Game
This bonus game involves a simple flip of a coin. The host of the show flips a two-faced coin with a red and blue side. Before the flip, each side has the multiplier randomly generated to it, and the side that faces up when the coin lands will be the winner.
Pachiko Bonus Game
The Pachiko bonus game features a big purple board with pegs and pucks. The game host will drop a puck on the pachiko wall and players will win the prize based on the multiplier amount.
If the pucks land on the double value, then the wins will be doubled and the bonus round will restart. In pachiko bonus, players have a chance to win up to 10,000 x.
Crazy Time Bonus Game
This is one of the most rewarding bonus games. The round starts by opening a red door and entering into the gigantic virtual money wheel.
Crazy Time features three flappers: yellow, green, and blue. Before the game begins, each team selects one of these flappers. The presenter will spin the wheel and if the wheel land on your chosen point, then you'll win the multiplier.
In case, if the flapper points on double or triple, then the values of the multiplier will be doubled or tripled and the wheel is spun again.
The Bottom Line
With this information, you're all set to begin your journey in this fun-paced game. Crazy Time is an action-packed game where players have many opportunities to catch four exciting bonus rounds and crazy multipliers.
Isn't this interesting?
If yes, then come out and try out this exciting game in the online gambling industry today. Once you do, you are guaranteed to enjoy the fun this game delivers.
Moreover, just remember to choose the best online casino to play this game. This is because only the legitimate and authentic casino will give you a great gambling experience.
If you're perplexed choosing the trusted casino, then you can choose our site BetBarter, India. We are a licensed and regulated casino registered under Curacao Authority. So, you can trust our site and enjoy the game thoroughly.
Good Luck!