Progressive slots are common games in both offline and online casinos across the globe. They're highly regarded due to their straightforward gameplay and a massive jackpot. What makes them progressive slots is the progressive jackpot that increases every time someone makes a bet up and doesn't win anything. Winning the progressive jackpot can change players' lives in a matter of seconds.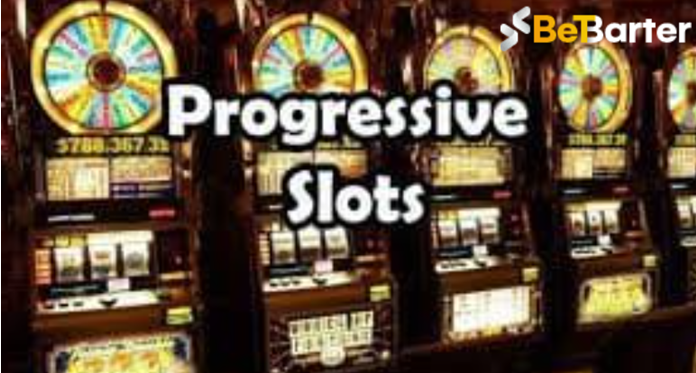 However, though they reward big, hitting the jackpot in progressive slots is not so easy. And this chance of winning big is what flocks many players towards this game.
Apart from its huge reward, there are also many other interesting things which you need to learn about this incredible game if you prefer progressive rewards. Check out these five interesting progressive slots facts concerning the history of progressive slots machines.
Interesting facts about progressive slots online
If you're planning to enter into the world of online gambling with progressive slots, then make sure to choose the best online casino. As only the legitimate and authentic casino will give you the best online slot experience.
Now, let's take a closer look at the top things about progressive slots that you should know before you place your first bet.
You need to play with maximum credits to hit the progressive jackpot.
One of the most important things about these types of slot machines is that you must always bet with maximum coins. This is because only the large bet will reward you with max payout.
Additionally, betting with maximum coin increases the player's chance of hitting the jackpot. So, whenever you plan to try this game, never bet with minimum coins if you want to win big.
The Megabucks Curse
Megabuck is one of the most popular progressive slots today. However, along with its popularity, there is a certain type of myth associated with it.
Some gamblers say that whoever wins Megabucks, they have to face death or some horrible misery. They believe it as some players who have won this jackpot have lost their life at a young age while some are paralyzed.
Probably, this may just be a coincidence and as a player, you can either believe in the curse or leave it.
Mega Moolah is probably the best progressive jackpot slot.
Developed by Microgaming in 2006, Mega Moolah is the world's most famous online video slot ever. It has 5×3 reels and offers 25 paylines. The game features a classic safari theme, simple graphics, and an immersive soundtrack.
In Mega Moolah, symbols like zebras, giraffes, elephants, and other Saharan animals are the highest paying symbols. On the other hand, symbols A – 10 is the lowest paying symbols in these slots.
Apart from this, the game also offers many multipliers and bonus spin round. And the most appealing feature of this game is that it comes with four progressive jackpots. These jackpots are the Mini, Minor, Major, and the Mega Jackpot.
The biggest prize ever won in this game is £13.2 million which was won by Jonathon Heywood in 2015. This win was even recorded in Guinness World Records as the highest jackpot won on any online slot game so far.
Progressive slots have a lower Return to Player (RTP).
If you are planning to play a progressive slot machine that gives you some advantage as a player, then you must always research the slots that offer the highest RTP for you.
The RTP is the amount that slot machines pay back to the players over a large number of spins. It is usually expressed as a percentage. For instance, a slot with an RTP of 99% will pay back $99 for every $100 that goes into it. This clearly shows that the higher the RTP, the better is for the player.
However, in the case of progressive slots, though they offer huge rewards, they often come with low RTP.
Play standalone progressive slots for a bigger win.
Progressive slots are not created equally and each one comes with a different size and variety. There are generally three types of progressive slot machines found in physical and online casinos. They are:
Wide area progressive slots
Local area progressive slots
Standalone progressive slots
Out of all these slots, Standalone is the smaller progressive slot and it offers the best odds for the players. In these types of slots, though the jackpot is less, the win is frequent.
On the other hand, in bigger progressive slots, although the bigger slots pay higher, the chances of winning are really low. Thus, always opt for standalone progressive slots if you want to enjoy a higher chance of winning.
The Bottom Line
To wrap up, these are some of the few fun facts about progressive slot machines. These types of slots machines usually come with countless possibilities for players. So, you can always try these games whenever you want and enjoy all perks and features.
Moreover, make sure, you play these slots from licensed and regulated online casinos like BetBarter, India. Our site offers a wide range of slots games and other top casino games like roulette, craps, Andar Bahar, and many others. If you play online cash Andar Bahar game and are interested to know Andar winning formula, then click on the link.
Register with BetBarter now and play today.
Best of Luck!
FAQs of Progressive Slots
How often do progressive jackpots hit?
Well, it depends on the type of progressive slots you're playing as jackpots vary from one slot to another.
Let's illustrate it with an example,
Blueprint's Jackpot King pays out 2 years on average while Major Millions pays out every 6 weeks on average.
Does anyone ever win progressive slots?
Of course, yes. Many players have created their fortune from progressive slots. One of the biggest won is by Jon Heywood, a British soldier, who won a whopping $19 million by just placing 25 pence.
To win, you must be determined and learn the game rules before placing your bet and of course, your luck should favor.
Where can I play progressive slots?
Various land-based and online casinos offer various progressive slots. They come with different themes, graphics and designs and varying features.
Invest your time in research to find out your favorite online casino site to play online progressive slots. It is important to make sure your selected site is licensed, properly regulated and completely safe.
If you're from India, then you can choose our site BetBarter, India. We are an authentic and licensed casino from Curacao Authority.