Guide to Euro Cup 2020 Betting
In this article, we'll provide you with the Euro cup 2020 betting guide to help you become betting experts in 7 minutes or less. Please invest your time and focus your attention if you want to make real money betting on Euro cup 2020 matches at one of India's best online sportsbooks. If you have never bet on Euro Cup or any sports in general, this guide will be handy.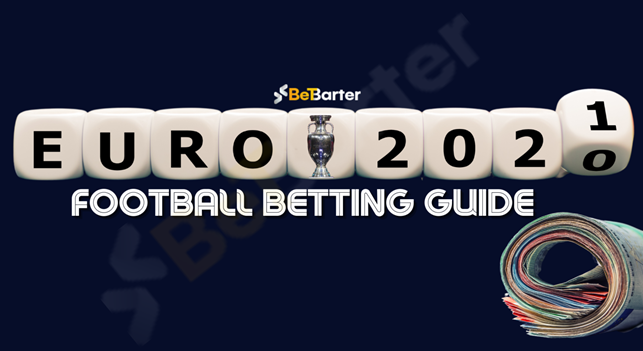 Here we've covered
• How to bet On Euro 2020?
• How to find the Euro 2020 betting page?
• How to add your bet on the betslip?
• Information on different types of Euro bets
In our other article, we've also covered online cricket betting tips, which can help you bet on cricket matches and win exciting payouts.
When Did Euro Cup 2020 Started?
The 16th Flagship edition of the Euro Cup started on June 11, 2021. The inaugural match was played between Italy and Turkey where Italy clinched a vital 3 points defeating Turkey.
The final game will be played at London Wembley Stadium on July 11, 2021, deciding the champion of Euro 2020 Football.
How to Bet on the Euros?
Registering with a betting site to place a bet on Euro 2021 will change significantly between sites, but the procedures mentioned below are likely to be roughly similar.
It should take no more than 10 minutes to complete, but it may be worth allowing yourself extra time so that you may go at your speed.
First, you need to set up your online betting account on a licensed betting site. To create a new account, click the icon. This may alternatively say 'sign up' or 'establish account.'
Provide any personal information asked by the betting site, including proof that you are above the age of 18.
Provide your deposit method information, making sure to deposit and/or bet the proper amount to activate the sign-up promotion.
Pick a club or teams and put your bet on Euro 2021. More information about placing a Euro 2021 bet online can be found below.
How to Find the Euro 2020 Betting Page?
The first step is to go to the European Championship page on the specific betting site where you wish to place your bets. Of course, this will differ depending on where you are, but this is the general approach.
The majority of websites will provide a direct link to the betting on their homepage. Click to the online betting India link to get to the screen where you can make your choices.
When you visit the betting site, you notice that various options are shown either horizontally across the top of the site or vertically down the left. For example, if a range of sports is available, choose football from the list. If the option 'Sport' is available, select it and then search for football.
Once you've navigated to the football section of the website in question, you should be able to discover a list of competitions with forthcoming matches. Choose Euro 2021. This will take you to the Euro betting page.
For best Euro Cup Betting Experience, we encourage you to register at BetBarter – India's trendiest and reliable online sportsbook. BetBarter is user friendly and secure online betting platform which can be accessed from your laptop, tablet and a smartphone without downloading any software.
We assure you that their welcome bonuses, features, odds, and overall experience on the platform will meet your expectations. You won't regret choosing this online sportsbook to bet on Euro 2020 matches.
How to Add to Your Betslip?
Once you've discovered the type of bet you're searching for on the page that displays all of the Euro 2021 markets, add it to your betslip and place your wager. The following are the steps you should follow:
Click on the odds next to the club or player you want to bet on. They will be added to your betslip, which should be displayed on your screen.
In the box, enter the amount you wish to wager on your team/player. For more information on the various types of Euro 2021 bets, scroll down this page.
If you have already deposited the money needed to place your bet, just click the 'Place bet' or similar button to place your bet using the money you have deposited. When this is completed, the betslip will be updated to notify you.
If you have not yet made a deposit, you will be asked to do so before you can place your Euro 2021 bets.
If you have earned free bets and wish to use them to place a bet on Euro 2021, your betslip will usually include a button or box to switch on or tick.
Top Betting Markets for Euro 2020
Win outright
This is where you select a country to win the event.
You can choose either England or Italy to win the final Euro match.

Full-time result
When you bet on a full-time result, you're just wagering on the outcome of a certain game.
For example, if you had bet on Italy to beat Wales 1-0, you would have won your bet.
Be mindful of extra time and penalties in the knockout stages, as these are typically settled on the score after 90 minutes.

Both teams to score
This is a straightforward market in which you bet on both sides scoring in a certain match. You may also bet on both sides not to score in any given match. The additional match time is not considered.

First Goal Scorer
You are betting on a specific player scoring first in the match in this market. The bet is carried over to the second goal if the first goal is the own goal.

Accumulator
An accumulator is a popular bet for football punters since it allows you to aggregate many different teams all to win for a single large sum. You can back Portugal, France, Germany, and Spain to win a particular group stage match in an accumulator at a considerably higher price than supporting them individually.

Handicap Betting
You can place a bet on either team to start with a handicap. For example, if you bet on Italy -1 vs. Wales, the Azzurri would start with a minus one and would need to win by two clear goals for your gamble to be successful.

Half-time/full-time
The half-time/full-time market involves betting on the outcome of the first 45 minutes, followed by the next 45 minutes.
For example, you could bet on draw/England for a match, and if the score is 0-0 at halftime, but England wins 1-0, your bet would be a winner.

Correct score
This market does what it says, and you bet on the correct score for each specific match. Some bookmakers allow correct score doubles, which can result in massive payouts.

Golden Boot
The highest scorer is generally a profitable market to consider for the Euros and other major tournaments.
Ronaldo, Kane and Sterling are more likely to win Golden Boot in this European Competition. But it is up to you to back your favourite player.
Bottom Line
Now you know how to bet on Euro Cup 2020 Football matches on the best online sportsbook in India. Hope you will not miss this opportunity of winning substantial cash before the tournament ends.
Remember to set aside a budget for betting to avoid accumulating unnecessary debt and gamble responsibly.
Wish you best of luck!