When you enter the casino world, slots are almost everywhere. Slots are considered to be one of the casino classics alongside Roulette, Baccarat and Blackjack. Because of their simplicity and big jackpot prize, slots are massively popular in both online and land-based casinos. With the advent of online casino gaming, casino players can enjoy playing a wide range of slot games online on their mobile, tablet, laptop or PC. They can play free slots casino games online as well as real-money slots from the comfort of their home or anywhere.
Slot games come in different themes, designs, graphics and gameplay options because of the diverse needs of slot lovers. If you are much into playing slot games on an online betting app, you probably know that there are two different types of slots: One Line slots and Multi Line slots. Today, we will look at the difference between these two.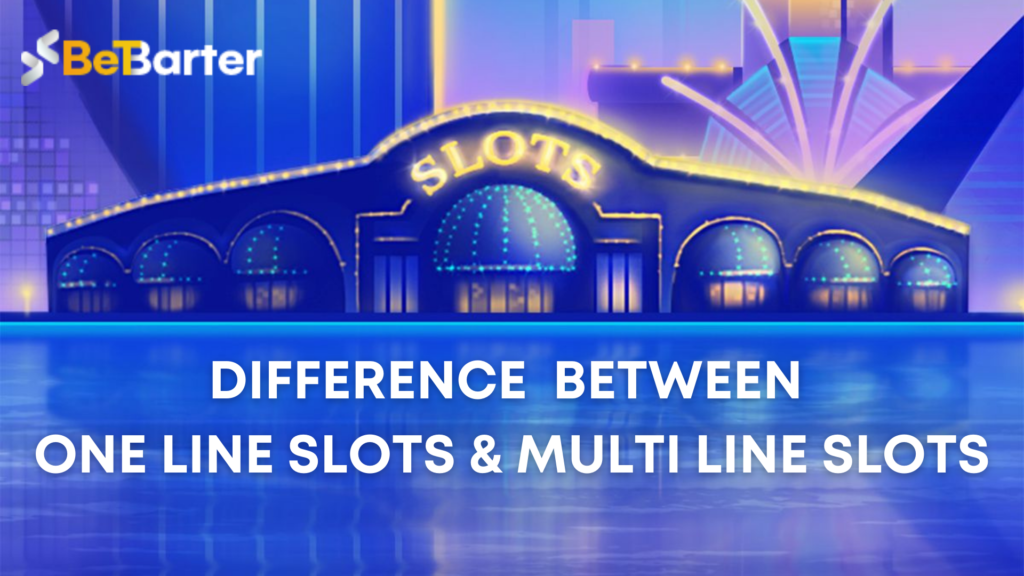 One Line Slots
One line slots or single line slots are slots with only one payline. They are simple classic slots that are easy to play for all slot players. Many people think of one-line slots when they think of slot games. They have a straightforward payline of symbols.
To win at most single line slots, you have to match 3 or 5 symbols and the winning prizes vary depending on the combinations of symbols you land on. The simple gameplay of these slots is perfect for those looking to start their online casino escapade.
There are many classic 3-reel slots with a single payline. However, you can find modern single-line slots too. Seven's and Stripes by the RTG is an example of one-line slots.
While some people prefer one-line slots for their simplicity, some feel them boring and restrictive. So, whether you like them or not, that is completely up to your preference.
Multi Line Slots
Multi-line slots, as the name implies are the slots with multiple paylines. The number of paylines can range from 10 to 1024.
They are more complex than single-line slots and can be confusing to beginners. But you can find help sections for these slots in most online casino sites and get clued up before playing them on real money.
They offer multiple chances of hitting winning combinations. With multiple lines, you have more chances to land on winning symbols from a single spin. They offer a greater variety of potential winning prizes than one-line slots. However, the cost of playing is also higher.
To play multi-line slots, it is better to have a basic knowledge of online slots. We recommend you to know the rules of a particular multi-line slot you prefer before playing on real money. Multi-line slots are also common in online betting India with many Indians playing them on various online casino sites.
Which to Choose, One Line or Multi Line Slots?
This depends on your preference. Some prefer one-line slots whereas others prefer multi-line slots. If you love the simplicity of the slot game and seeking a classic casino gaming experience, you can opt for one-line or single-line slots. Also, if you are new to online casinos, you can find one-line slots to be straightforward for you.
But if you are someone who enjoys modern casino gaming with a range of options and variables, you can choose to play multi-line slots.
Whatever you choose, make sure to know the rules of the slot game you choose to play before playing on your hard-earned money. You can also test both these types of slots and find out yourself which one is your favourite.
Play One Line and Multi Line Slots at Betbarter
Wondering where to play one-line and multi-line slots for real money? You can choose Betbarter as your online casino platform where you can find oodles of online slot games of different themes, designs, graphic and gameplay options.
Licensed under Curacao Gaming Authority, Betbarter is a trustworthy, safe and reputed online casino platform for many slot lovers. It has an attractive site that is fully optimized for mobile gaming as well. There is no need to download any app or software on your device. You can access the site via browser and play real-money online casino games.
In addition to online casino slots, you can play Roulette, Baccarat, Blackjack, Teen Patti, Poker, Andar Bahar, Dragon Tiger and many more at Betbarter. The casino is also at the forefront when it comes to offering the optimum casino bonuses and promotions in India.
Conclusion
Now you know the difference between one-line and multi-line slots, we think you can figure out which type of online slot suits you better. Choose what you prefer and enjoy playing online slots on real money only at a licensed and fully regulated online casino site.
We recommend you to know the rules of the slot game you choose to play and also the terms of the casino you select to play the game before risking your real money. You can play demo versions of online slots for practice and get the hang of how online slots work if you are a beginner.
You can also read some important slot strategies online to improve your gameplay. If you are into bingo slots, then you can get your head around the bingo slot machine strategy to know how you can enhance your winning odds. Last but not the least, set aside a budget and manage your bankroll for playing online slots on real money.
Enjoying playing online casino slots. Good-Luck!!!