CS: GO Betting in India
The popularity of CS: GO (Counter-Strike: Global Offensive) has skyrocketed in India. It is all due to the COVID-19 lockdown measures and the growing interest of tech-savvy youths in online gaming.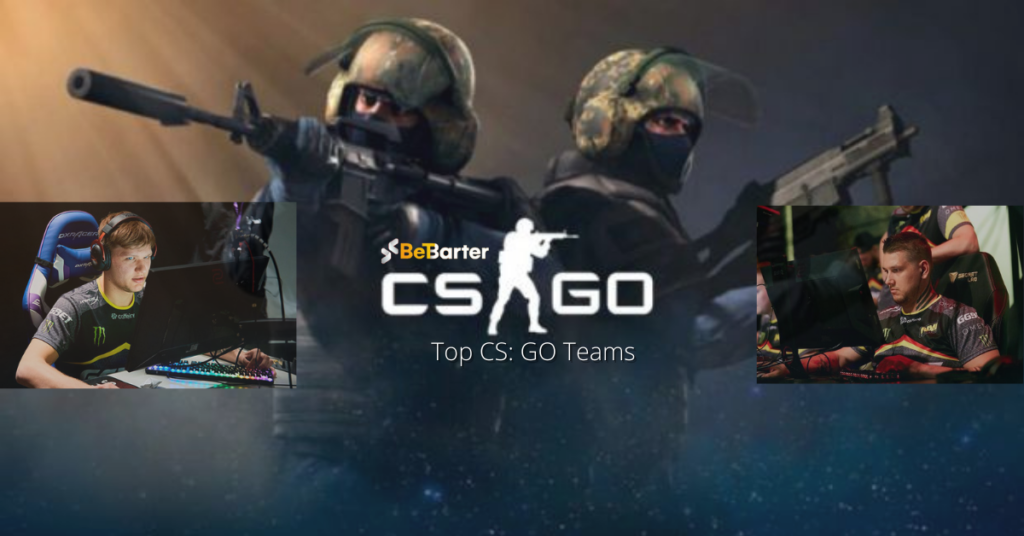 During COVID-19, when the case was intense, all the sports activities were cancelled or postponed. So to satiate the needs of online betting enthusiasts, bookies resurrected esports betting primarily focusing CS: GO.
With the CS: GO tournaments such as IEM Summer 2021, ESL One Cologne 2021 and ESL Pro League Season 14 fast approaching, it is necessary to have information about the best CS: GO teams to take advantage of esports betting.
While waiting for the outcome of CS: GO betting, you can enjoy a deal or no deal India game at BetBarter to spend your idle time. Just imagine how best it would be if you win your bets on both games.
TOP CS: GO Teams to Watch Out for in 2021
If you are up for online CS: GO betting, please consider reading this article to know more about the top CS: GO teams that can help you know about competent CS: GO teams and win a large pool of money by betting on them in India.
1. Astralis
The Astralis squad has been the talk of the town because of their strong lineup. They play highly dominant games that sometimes put the opponent under challenging situations.
Despite a difficult season in 2020 in which half of their teammates were injured or fatigued, they remained optimistic and performed wonderfully to lead the HLTV rankings. They won two trophies in 2020 and finished second after the year.
The entire team has recovered and is fresh to go for the 2021 CS: GO circuit. The Astralis squad is made up of world-class players from top to bottom, and they are poised to rule the world of counter-strike this year.
Fans anticipate that the Astralis will have another excellent year if none of its key players is injured. They are more likely to win top prizes and compete with vigour in every event they attend.
2. Vitality
Vitality is clear favourites for 2021, and is expected to put up a hard fight for the top spot. Even though Astralis has a good chance of reaching the top, Vitality is expected to give a tough challenge.
Vitality was a successful squad that finished second in the HLTV world rankings in 2020, so we can't say anything since they can elevate their game at any point. Many CS: GO fans believe that vitality is the future of Counter Strike since their team effort is amazing.
Vitality can breach the opponent's defensive strategy with its six-man roster. And the team has become stronger since signing Niveria in October. This squad has been employing the substitution on a map-by-map basis from about the mid-series. It has given them an unrivalled advantage over their opponents in strength, flexibility, and tactical strength.
Furthermore, Vitality boasts the greatest players globally. Their squad is filled with players of all different skills which will surely give them an advantage over other teams.
With the inclusion of Zwaos, one of the world's best CS: GO players, their squad has become unique and strong.
Vitality will undoubtedly have a fantastic tournament in 2021, and they are preparing to live up to the expectations of their fans with their aggressive gameplay.
If you enjoy the team spirit and want to make money watching it in action, we recommend betting on Vitality.
3. Navi
The third CS: GO team on our list is Navi. In 2020, the team finished third in the HLTV ratings. It was in the limelight for a few months at the start of the year.
After that, they couldn't keep up their form. But Navi is much likely to bounce back at the end of 2021 with a string of top finishes.
S1mple, undoubtedly the best player for NaVi in CS: GO, has risen to prominence. Although ZywOo is challenging him in the rankings, he maintains his position at the top due to his best-in-class performance, fueled by his expertise.
If you want to bet on CS: GO this year; Navi is a team you should not miss. The spectacular wins at the Blast Primer Global Finals against Astralis speaks volume of their form and competence.
S1mple has been named MVP (Most Valuable Player) of a number of CS: GO events and he'll continue to deliver some great performances in 2021. If the rest of the team matches his form, then Navi could be a formidable team much like Astralis and Vitality.
4. Furia
There is no doubt that Furia is the best North American team.
Last year, the squad had a fantastic year, cementing its position as one of the best in the world. Furia has an excellent combination of experience, talent, and unpredictability, which means they can defeat anyone. They even decided to spice things up even more by introducing a six-man roster in 2021.
Furia is the most versatile team in Counter Strike as they are excellent at employing innovative tactics. Due to their unpredictable and innovative gameplay, sometimes the opponent becomes daunted to play against them.
You can expect them progressing over the next 12 months and having at least one perfect trophy by 2021.
5. Gambit
The team comprises four exceptionally talented young people who steadily climbed the ranks and began to topple down big names in 2020, with few signs of slowing down.
While the whole lineup is excellent, two notable names jump out for those unfamiliar with the roster: Ax1le and sh1ro. The latter one is the best performer who is also known by the young version of S1mple. Sh1ro, a 20-year old Russian CS: GO player has the competency to become one of the best CS: GO players down the road.
Then there is the Ax1le, the most popular rifle in the squad. Like sh1ro, he seems to have what it takes to be the biggest performer and is a candidate to watch out for. It isn't easy to compare him to any other player, even though his skills are identical to those of a top Shox or Magisk.
Both players have crushed tier 2 competitions, with ratings far higher than the standard of 1.20.
Bottom Line
Now you know the top 5 CS: GO teams to bet on in 2021. You can research more online to fetch some useful information about these teams before betting on the CS: GO tournament.
Moreover, we suggest you research the CS: GO team and player stats before making a betting decision. And for the best CS: GO betting experience, we encourage you to register at BetBarter – the best online betting India casino for esports betting.
The simple and user-friendly interface makes CS: GO betting on BetBarter India a breeze. Just don't take our words for it; register now and try it for yourself.