Roulette and slots are two of the most popular casino games in the world. These casino games are available in almost all top online or hall-based casinos. They are so common that even people who do not gamble at casinos are likely to recognize them.
In this article, we will be comparing these two online casino games and in the end, you got to decide which one you should go for.
So, let's get started.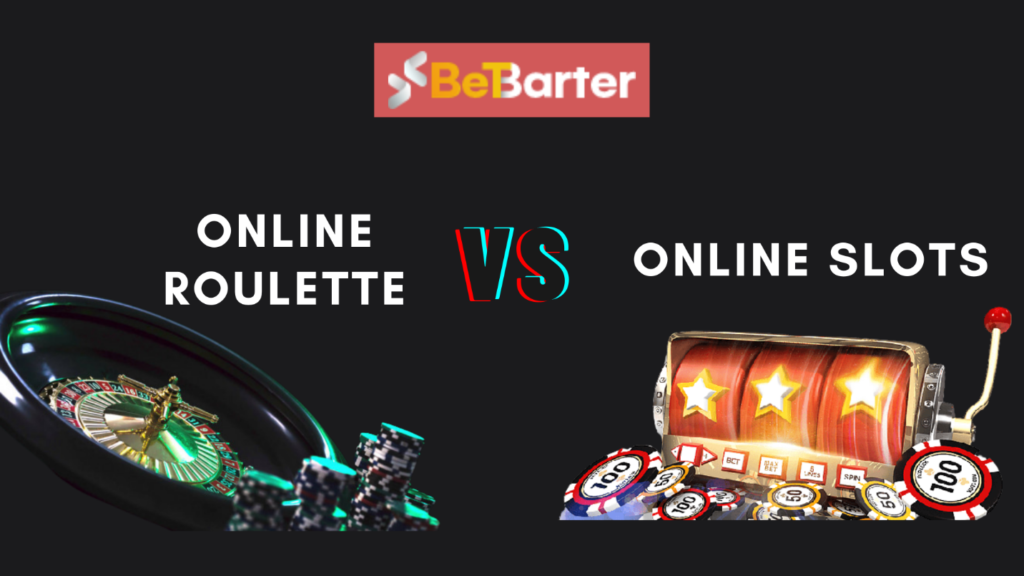 Why Roulette and Slots are so Popular?
Slots and Roulette are both incredibly popular because they are straightforward and also of the variety they offer to players.
Roulette is undoubtedly one of the oldest games in the history of the casino. And it has grown to become one of the most loved games both in online as well as land-based casinos.
Side note: Learn some quick and easy Betgames tips by clicking on the link.
Slots are also one of the oldest games that came in the form of a coin-operated machine. To play slots at land-based casinos, players have to insert coins and pull the lever to get the reels spinning. Online slot machines are now much popular and they usually come with three or more reels packed in a variety of awesome themes with exciting symbols and gameplay features.
Both games are very simple to understand and play, making them easy choices for both advanced and newbies.
When it comes to playing slots in an online casino, the game is very straightforward, you just need to pick your game, decide your stake level, and set the number of spins you want to play. After that, you can just chill and let the reels do their work. The player winning or losing depends on the payable and the combinations of matching symbols. If you get matching combinations of at least three of a kind, you will win the game.
Whereas, in roulette, the players can place either inside bet or outside bet. There are different types of bets players can choose from, so it is always a good idea to have a solid understanding of the types of roulette bets before you start playing.
After all the bets are placed, the dealer will spin the wheel and roll a small, round ball that spins in the opposite direction in the wheel. The ball will eventually fall into one of the marked slots, which will determine which bets receive a payout. Roulette is definitely an attention-grabbing casino game.
Variants
Online slot machines boast a huge variety of exciting themes, stunning graphics, and a diversity of symbols. In addition, they also come with special features like bonus rounds, stacked wilds, multipliers, regular and progressive jackpots, and much more.
At BetBarter for example, you can find a lot of slot games themed around dragons, Egyptians, Aztecs, vampires, popular sports, and many more. Plus, you will get amazing bonus rounds and rewards offered by the huge variety of different slots.
Similarly, you can play different types of roulette like American, European, and French roulette. You can also get roulette in a lot of exciting versions like a double ball, auto roulette, mini roulette, or multi-wheel roulette version. Whichever you would like to play you will find enough variety and plenty of new options to keep you engaged for a long time.
Ease of Game
Slots and roulette are mostly similar in their ease of use as their game format and gameplay are wonderfully simplistic. Both the games are intuitive, easy to understand, and have rules that can be picked up in just a short period.
And with the availability of slots and roulette in an online casino, both these games can be carried around in your pocket, and with just one device and the availability of the Internet. With these options, you can play wherever and whenever you want.
However, if you are a beginner seeking something easier, to begin with, slots might be a better game choice for you. Roulette rules might require a little more time to understand. Even though it is considered to be one of the simplest and easiest casino games, it can still require more practice and time than slots. You will need to learn all different types of bets, which isn't the case with slots.
Neither Are Games of Skill
Because there is very little skill involved in playing these two games: Roulette and Slots both are largely games of chance. In comparison to slots, roulette definitely requires some time to observe its rules and get started, but once you learn its rules and format, you just need to sit back and let the ball roll on the wheel on its own.
Both games do not require any vast skills and they can be the most fun games to play.
Both slots and roulette are great choices for beginners who are new to the world of online casinos because neither relies on an expert level of knowledge and skills. Both can be played at the player's own pace. Whichever casino game you choose, it is easy for you to get started and able to play on real money.
Slots Have Fewer Variables
Slots in comparison to roulette, have fewer variables you need to take into consideration when playing.
While spinning the reels in a slot game, the most important thing here is to choose a bet size that fits you. Some slots variants like skill-based slots have bonus game rounds that require skill as well, but this differs from one game to another.
Roulette or Slots: Which One Should You Choose?
Finally, which game should you go for? Well choosing between these two is up to you. You should try to pick the one that suits your playing style and personal preferences.
Your choice also might be depending on the game's risk appetite and financial budget.
While roulette isn't the most difficult casino game to master, it does have a learning curve, whereas you won't need much thought in slots and can just jump to the game. If you want to be successful in roulette, you need to master its rules and learn about the aspects that make them unique.
Mostly the beginners enjoy slots because they are easy to play, and require very little effort, and provides large jackpots always on the horizon. Roulette at the same time can be a little different in a way that most players stick with outside bets which have comparatively moderate rewards.
On the other hand, Roulette possesses a big advantage over slots and many other casino games with its relatively lower house edge. The house edge will increase when you are making inside bets, but the outside bets will have odds of close to 50/50. In slots, you will probably never have odds of 50/50 on every spin.
Fortunately, these two games complement each other quite well so there is no need to choose between these two. You can spin a few reels at the slots after an intense session of roulette. Both of these games are so much fun and it can be a nice way to unwind and relax playing one after the other. And if you get really lucky, you can win yourself a great prize.
So, eventually, the choice is yours.
Conclusion
No matter which game you go for, always practice responsible gambling. Also, make sure to play in a reliable and secure betting site to make the most out of your gaming experience. You can go for a site like BetBarter.
BetBarter is a reliable and reputed betting site in India licensed by Curacao Authority. You will find a lot of exciting casino games including Slots, Roulette, Poker, Blackjack, Baccarat, Craps, and many more. Register now and get a chance to play slots or online roulette real money India.