Play Andar Bahar Live Casino
Andar Bahar, also known as Maang Patta, Katti and Mangatha, is one of the traditional Indian card games. It originated in South India and now has reached all parts of the world through online casinos.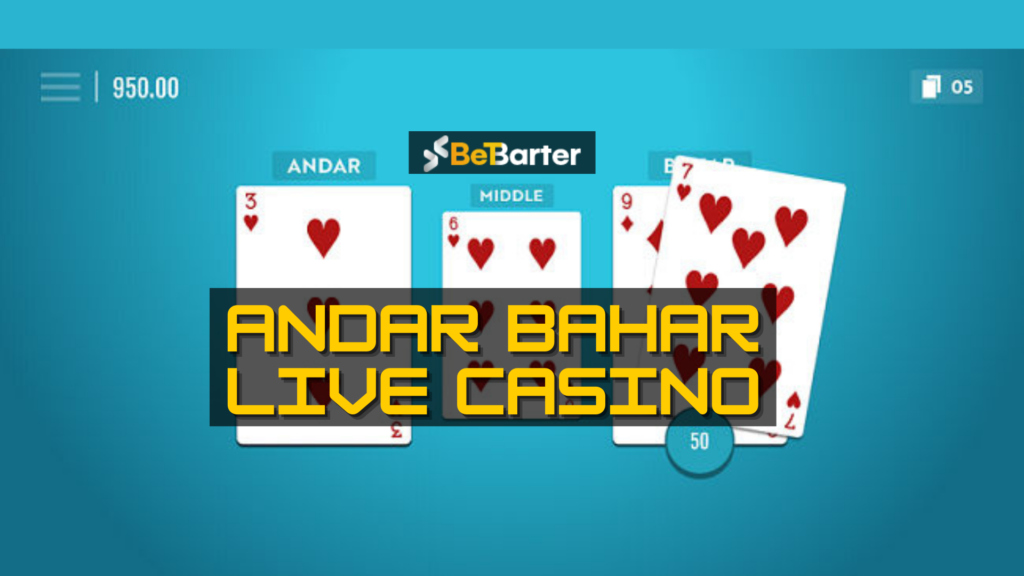 Its simplicity and quick gameplay have made it one of the popular casino card games. Gamblers from around the world enjoy this game in various online casinos.
To help you win some real cash, this article provides you the best ways to play Andar Bahar live casino in India.
6 Powerful Tips For Playing Live Andar Bahar
1. Choose the Best Site
The first step to play and win in any casino game is to choose the best site. By 'best' we mean a licensed and trusted online casino.
In the case of Andar Bahar too, the first thing that you must do is select a legitimate online casino site that provides privacy and security to your deposits and personal information. Play Andar Bahar online only at a licensed, safe, and reputed online casino platform
Following the craze of online gambling, countless online casino sites have been developed. And never think that all casinos are the same and it does not matter wherever you play. Well, it does matter. Every online casino cannot satisfy its customers and to make the matter worst, some sites are there only to take away your money.
So, select the site that gives top priority to customer satisfaction and gives you a fair chance of winning money.
To make your search easy, we recommend you to bet on BetBarter. It is renowned as one of the trusted and best online casino sites in India. It provides the best quality games and services to all of its customers.
2. Understand the Game Terms Used in Andar Bahar
Before learning about other aspects of a game, first, you must know the meaning of the terms used in the game. This helps you enter into the game with ease.
Andar Bahar neither has complex terms nor has many terms to remember. You are required to know just the two terms: Andar and Bahar. If you are from India and Hindi is your mother tongue, you already know what these terms mean.
If you do not understand Hindi, then we will tell you that 'Andar' means 'Inside' referring to the left betting side on the table and 'Bahar' means 'Outside' referring to the right betting side on the table.
3. Learn Andar Bahar Rules
You can take better betting decisions on the game if you understand ins and outs of the game. So, it is crucial to learn Andar Bahar or Maang Patta rules and know how it is played before betting.
To begin the game, a dealer draws a card from the deck, which is placed on the table as a Joker of the round. Now, you must place your bet predicting the spot that gets the first identical value card of the Joker.
If the Joker is from a black suit, dealing begins from Andar and if it is from a red suit, dealing begins from Bahar.
Now the dealer deals the cards alternately with face-up on both spots unless one of the spots gets the first identical value card of the Joker. If your predicted spot gets that card, you win your bet. Winners are paid, losing money is taken by a dealer, and the round ends to begin the next one.
4. Know the Andar Bahar Bets and Payout Rule
Andar Bahar online cash game has two main bets: Andar and Bahar. You can place your bets on any of the two bets but the payout you receive varies according to conditions.
If the identical value card appears on the same side where the first card was dealt, the winner receives a profit payout of 90%. For example, if you win your bet of INR 100, you receive a total payout of INR 190 that includes the profit of INR 90.
Similarly, if the identical card appears on the other side, the winner receives a profit payout of 100%. For example, if you win your bet of INR 100, you receive a total payout of INR 200 that includes the profit of INR 100.
Some online casinos may offer some additional bets on Andar Bahar. You can find additional bets on the screen of the Andar Bahar game if offered any.
5. Look for the Best Andar Bahar Odds
As there are only 2 main betting spots, basically the odds on both spots are believed to be 50/50. But actually, it is slightly different.
The odds of the first identical value card to appear on the side of the first dealt card is 51.5% whereas its odd to appear on the other side of the first dealt card is 48.5%.
So, to increase your winning probability, you can bet smartly by looking for the best odds. You can bet according to the color of Joker for the best odds. If the Joker is from a black suit, bet on Andar, and if the Joker is from a red suit, bet on Bahar.
6. Manage Bankroll for Andar Bahar Online Cash Game
Bankroll management is always one of the best ways to play any casino game. And it is more important in the case of the Andar Bahar live casino game. This game is super fast and it becomes more likely that players will get mixed with the flow and overspend their money.
So, you must preplan your betting stakes and stick to it strictly. If you are a beginner, it is wise to play with minimum bets so that you will have a low risk of money while getting a gambling experience.
Conclusion
You see, Andar Bahar is extremely easy to learn, and you can play it online even if you have little time. But do not take this simple game simply. There is always a trick in gambling to increase your winning odds. So, follow these steps and play Andar Bahar live casino in India to win some quick money.
In case you are looking for the best Andar Bahar Casino in India, we recommend you to play Andar Bahar at BetBarter.
BetBarter is a mobile-friendly online casino that offers the best Andar Bahar experience to casino enthusiasts.
If you are a beginner, you can also check out other best online casino games for beginners.
Andar Bahar FAQ's
Where Can I play Andar Bahar?
Plenty of online casinos in India are adding Andar Bahar to their live game library, but we can recommend BetBarter and SkyLive if you got trouble finding a live table.
Is it Legal to Play Andar Bahar?
If you are over 18, you can play Online Andar Bahar in India without any legal constraints.
No such laws are formulated in India that explicitly say playing online or live Andar Bahar is illegal. Many of the online casinos serving Indian players have Andar Bahar in their casino games catalog.
Just be sure to choose an authentic and trustworthy online casino bound by International laws on protecting your privacy and data.
What are other popular names of Andar Bahar?
Andar Bahar is popularly known as Manga Patti or Katti.
What does Andar Bahar Mean?
It actually means Andar (Left Spot of the table) and Bahar (Right Spot of the table), making good sense since you can bet on either left or right.
What are the variations of Andar Bahar?
Andar Bahar is a relatively unique card game that has multiple variants. They are online Andar Bahar, Live Andar Bahar, Video Andar Bahar and Multiplayer Andar Bahar. In live Andar Bahar, you can chat with the professional dealer and other players during your betting rounds.
Depending on the variation, the payout can be different, and you may also get an option to place additional side bets.
Is there a free version of the Andar Bahar available?
Yes. The free version or Demo version of Andar Bahar is available on various casino sites, but they won't reward you with real money upon winning. The free version of the game provides you with an endless hour of fun, and it can also be played to learn the rules and gameplay.
How do I win at Andar Bahar?
Andar Bahar is a simple game that you can master in no time, but winning is mostly about pure luck. However, you can improve your winning prospect by knowing the rules and betting system so that you get the most from playing.