Big Bash League 2021-22, the 11th season of the Big Bash League (BBL) is currently going on. This Australian Twenty20 cricket tournament is one of the major cricket events in the cricket world which is watched by a large number of cricket fans or followers from different parts of the world. The tournament also gains much traction in the betting world. If you are interested in betting on this ongoing BBL 2021-22, then go through this article as it will be your comprehensive guide.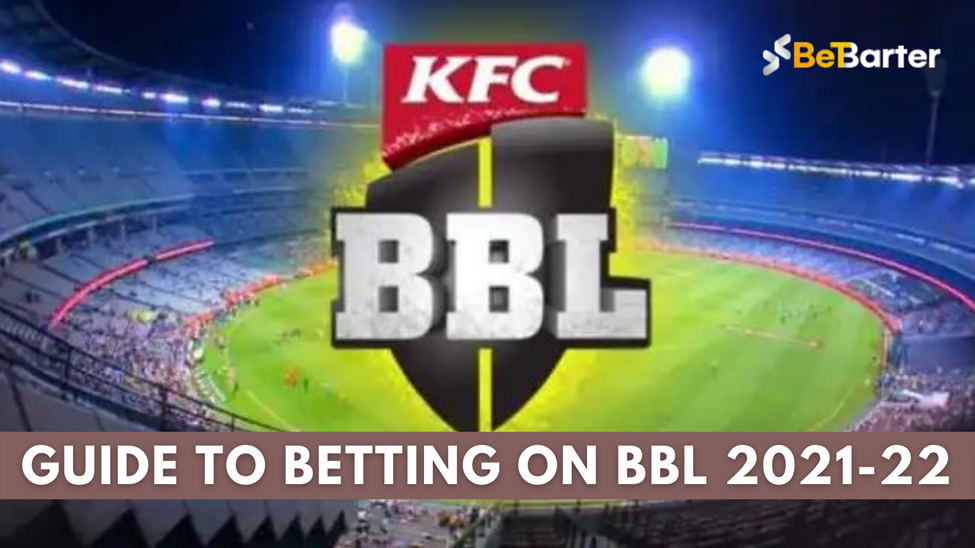 A Short Introduction to Big Bash League
Before you place betting on Big Bash League, it is important to know about the tournament and how it works. Big Bash League (BBL) is a Twenty20 cricket tournament that takes place in Australia during December, January and February.
Also Read: IPL Betting Tips
This season of BBL started on 5th December and the final of this tournament will take place on 28th January.
The eight teams compete in this Australian domestic T20 tournament. They are:
Sydney Sixers
Sydney Thunder
Perth Scorchers
Brisbane Heat
Melbourne Renegades
Melbourne Stars
Adelaide Strikers
Hobart Hurricanes
Although BBL is an Australian domestic cricket league, it also features many talented cricket players from other countries. Many top cricketers of the world play or have played the BBL tournament which includes the likes of AB de Villiers, Jofra Archer, Lasith Malinga, etc.
Out of eight teams, the top five teams qualify for the playoffs. Then, the top two teams will reach the Qualifier and whichever team wins will directly reach the final. The fourth and fifth positioned teams have to play in the Eliminator and the winner of the Eliminator round will play against the third positioned team in the Knockout. The winner of the Knockout will play against the team that lost the Qualifier to decide which will be another team to play the final. The winner of the final will be crowned as the Big Bash tournament winner.
Big Bash Betting Options
Let's check out different types of betting options that are generally offered by online sportsbooks for Big Bash League.
1. Tournament Outright Winner
In this bet, you wager on the team that you predict to be the winner of the BBL tournament. Obviously, the result of this bet is known at the end of the tournament. The odds offered by sportsbooks for teams change as the tournament progresses.
2. Match Winner
This is the most common type of bet in the entire cricket betting world. It is a straightforward bet where you have to predict which team will win the cricket match. You wager on one team out of two competing teams or you can also bet on a draw if you think so.
3. Top Batsman
Ahead of every match of Big Bash League, you can place your bet on who will score the most runs for each side. This is one of the bets where you need to have knowledge of the performance of batsmen of each team and at what position they will enter the ground for batting for better prediction.
4. Top Bowler
Like Top Batsman, you can also place your bet on who will be the top bowler for each side ahead of every match. For better prediction, check out the stats like high strike rates of bowlers to get a better idea of how they will perform.
5. Man of the Match
This could be one of your favourite betting options because of its huge returns on winning. For every match of the BBL, you can place your bet on the player who you think will become the Man of the Match. You need to research and work out who can perform really amazing in the match for better prediction.
6. Most Match Sixes
Like IPL, BBL is an action-packed T20 cricket league where batsmen want to score runs quickly by hitting big shots. In this bet, you predict the batsman to hit the most sixes in the match. This is a fun betting market to play. Check out the stats before you put your money down for this bet.
The above discussed are just some of the common betting options available in BBL betting. There are many other betting options offered by a sportsbook like which team wins the coin toss, method of 1st dismissal, total runs in the match and in-play BBL bets as well.
Where to Bet on Big Bash League 2021-22
You can find many online betting sites that offer you to bet on this ongoing BBL cricket tournament. You have to make sure that your chosen betting site is properly licensed, fully regulated and a safe platform for online betting activity. You obviously don't want to go for a betting site that will be reluctant to pay you out on winning. So, you can invest some time in research to find a trusted and suitable betting site that offers you great betting odds with exciting bonuses on your deposits. You don't have to depend on a single site, you can research different legitimate betting sites to find better odds.
If you want us to recommend, then choose BetBarter, an online betting platform licensed and regulated under Curacao Authority. BetBarter offers you a wide range of online cricket betting markets. You can also claim exciting bonuses and offers on the site. Enjoy BBL 2021-22 more by betting with BetBarter. BetBarter could be your favourite platform for online betting India.
Conclusion
We hope that these pieces of information are helpful for you to get started with BBL cricket betting. T20 Cricket tournaments are exhilarating cricket events for betting. Make sure you understand how betting odds work before you place any bets. Always perform betting activity on a licensed and regulated online betting site like BetBarter. Enjoy the sport and good luck with betting.