Although sports betting is generally considered a form of gambling, it is not similar to playing online slots and other chance-based casino games. To be successful in sports betting demands knowledge and dedication. It's not a piece of cake to make sports betting a successful profession.
If you want to be a professional sports bettor, then this article will be helpful. Here, we will discuss important attributes and skills that you require to be a professional sports bettor and achieve long-term success in the world of sports betting.
Below, we have listed those necessary attributes and skills and describe how they are important in sports betting.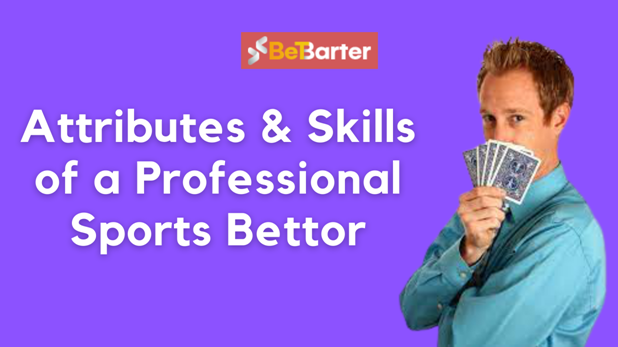 Attributes and Skills of a Professional Sports Bettor
1. Long-term vision
If you are into sports betting thinking to get rich quickly, you are very likely to be disappointed. Sports betting is definitely not a way to make big money quickly. Do not think that you will earn a life-changing amount in a short period of time from sports betting.
Focus on the long-term vision and apply useful tips like online cricket betting tips if you are into cricket betting. Set a goal that you can achieve and devise a plan to achieve your set goal. Your goal should focus on earning a reliable and steady income over some time rather than earning a massive amount like winning a jackpot.
If you have a short-term vision and intend to make as much money as possible without caring about potential risks, then you can put yourself in trouble. Abstain yourself from taking unnecessary risks and focus on your long-term goal.
2. Solid knowledge of a sport chosen for betting
Sports betting is not completely based on luck and knowledge has much to do with it. Although only having a solid knowledge of a sport you choose for betting doesn't guarantee your success in betting, it is of crucial importance and a need for successful betting.
You need other qualities or skills too, but sports knowledge can't be overlooked at any cost. With strong sports knowledge, you are likely to make smart or wise betting decisions.
3. Patience
Another important attribute of a professional sports bettor is patience. If you lack this attribute, you are very unlikely to make rational decisions when you have to. If you are impatient, you are likely to make mistakes that can ultimately lead to your loss in betting.
A professional sports bettor should stay patient, evaluate the available betting options and make the right betting moves when there are more chances of making profits.
4. Good math skills
You don't have to be a math genius but at least you should have good math skills and understand basic math principles to be a successful bettor.
You should be able to do some quick calculations to evaluate betting options and determine the value bets. For this, the concepts of probability and value are required. If you don't have such concepts now, you can definitely learn them.
5. Ability to control emotions
If you want to be a professional sports bettor, then you shouldn't let your emotions affect your betting decisions. It might not be easy but don't let your emotions get the better of you.
You might have your favourite team because of some kind of connections or other factors and you might be tempted to back on that team even if the team is unlikely to win. So, you have to avoid such cases and bet with your head rather than your heart. Be practical and stay focused on the sports betting job.
6. Motivation, Discipline, and Self-belief
To be a professional sports bettor, you need to be motivated in sports betting, be disciplined and have faith in yourself. To have deep insights into sports, perform research and evaluate betting options; you have to invest your time and put into the required effort. There will be times when you don't want to work but you have to. You need to motivate yourself and focus on your set goals. You have to be disciplined to perform the action you are required to do and at the time when it is needed.
Even if you put in much time and effort, there will be periods when things do not go as you want them. Even if your predictions go wrong in succession and you have a bad run, you shouldn't lose your faith during such times. Such bad runs will come to an end if you are making betting decisions for the right reasons. You have to understand that success in sports betting is possible but you are likely not to achieve it without facing challenges on the way.
7. Sufficient bankroll
Last but not least, you need to have a healthy bankroll. This is not an attribute or skill but it is an important requirement, so we feel the need to mention it. You need to have a sufficient bankroll that is enough to cover your successive losses and enable you to place bets that pay high returns to contribute towards your set goal.
Apart from having sufficient bankroll, you should know how to manage your bankroll by keeping track of your wins and losses. You should not be betting money that you can't afford to lose.
Final Words
If you want to live your life as a professional sports bettor, then you need to have the above-discussed attributes and skills. You have to take sports betting as a journey and invest your time and efforts in it. Expand your knowledge about the sport you want to bet, research to find more profitable betting odds, and make smart betting decisions.
Always perform online betting activity on licensed and safe online sportsbooks. If you are from India, you can choose BetBarter, one of the best betting platforms for online betting India. BetBarter offers profitable betting odds on various top sporting events that interest many Indian sports lovers.