What is 13-card Online Rummy?
The 13-Card Rummy often referred to as Paplu, is a game for 2 to 6 players. Typically, one or two standard decks of cards are used, each containing a joker.
The game is simple and easy. Each player must organize their 13 cards into sequences or groups of sequences.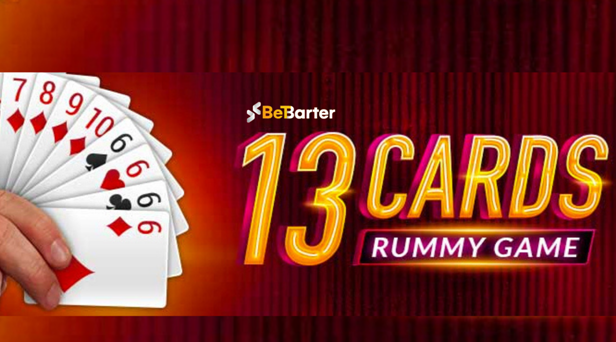 The cards in each suit in Rummy are ranked low to high, beginning with Ace, 2, 3, 4, 5, 6, 7, 8, 9, 10, Jack, Queen, and King. The value of each of the Aces, Jacks, Queens, and Kings is 10.
The remaining cards are worth their face value. For instance, 5 cards will be worth 5 points, and so on.
If you are new to 13 Card Rummy, consider reading this guide to become a successful Rummy player.
Side Note:  Live Andar Bahar comes next to Rummy in popularity in Indian casinos, so if you want to win a substantial amount playing Andar Bahar, consider reading Andar Bahar winning tricks.
How to Play 13 Card Rummy?
13 Card Rummy is a simple and easy game. Here is a step-by-step guide on how to play 13-Card Rummy:
Sorting: Use the Sort button to arrange the cards in your hands automatically. This is a critical step in helping you identify workable combinations.
Drawing and Discarding: To build sets and sequences, you need to drag and drop cards. You can choose a card from the closed or open decks on the table. You then need to discard a card from your hand by dragging it onto the open deck or via the "Discard" button.
Declaration: Once you have completed the appropriate combinations, you can end the game by placing one of your cards in the "Finish Slot" and declaring your hand to your opponents.
The system automatically checks the combinations formed as soon as you declare your cards.
A proper declaration must have at least two sequences, and all cards must be organized in sequences or sets. Let's look at some valid sequences and sets.
Basic Terminologies used in 13 Card Rummy
Before we begin, it is critical to grasp the key terms used in 13 Card Rummy. Let's know about them.
Dealing: At the start of the game, 13 cards are handed one at a time to each participant at the table. This is referred to as dealing.
Joker: In 13 Card Rummy, the Joker is very important. It serves as a stand-in for missing cards in a sequence or set. Jokers are classified into two types: printed Jokers and wild Jokers.
Closed Deck: Following the deal, the remaining cards are arranged in order to make a closed deck while keeping it face down on the table.
Open Deck: Open deck is formed of the cards discarded by participants or players. To begin the game, the top card from the closed deck is chosen and placed face-up on the table to construct the open deck. This card is available for selection by players.
Deadwood: The ungrouped cards or cards that are not part of any combination are referred to as deadwood.
Sequence: A sequence is a collection of three or more successive cards of the same suit. There are two types of sequences in the game: pure and impure. To win a Rummy game, you must have at least two sequences out of which one has to be a pure sequence. Another one can also be a valid set.
Set: A set is made up of three or four cards with the same rank but different suits. In a set, jokers can also be utilized.
Drop: The "Drop" button allows a player to exit a game. It may be a lifesaver, especially when one's cards are stacked against them.
Melding: The process of arranging cards in sequences and sets is called melding.
Points Calculations in 13 Card Points Rummy
Each face card (Ace, King, Queen, and Jack) is worth 10 points.
The face value of printed or numbered cards is the same as their face value. For example, a 5 of spade will be worth 5 points.
All Printed and Cut Jokers have a point value of zero.
In any scenario, a player receives a total hand penalty if he fails to execute the appropriate action in his turn and misses his first three consecutive turns.
If, on the other hand, a player skips his first turn (intentionally or unintentionally) and decides to drop in the second turn, he gets assigned drop points based on the middle drop.
If a player does not build two sequences in a row (one pure and one pure/impure), he gets points based on all cards in his hand (maximum 80 points).
However, when the player completes two key sequences, points are awarded based on the remaining cards in hand.
If a player does not send his cards (they are properly ordered or not), the system takes them as they are.
If the information given by a player is incorrect, he will be penalized with 80 points.
A hand can contain a maximum of 80 points, so the whole hand is worth 80 points. If a player declares the game of Rummy on the first move, the other players (those who have not yet taken their turn) are penalized up to a maximum of 40 points of the middle hand.
Final Thoughts
Now you know how to play 13-card Online Rummy. We recommend you to play Rummy online for real money only at a trusted, safe and licensed casino site. For the best online casino gaming experience, we suggest BetBarter India- the best online casino in India for top online and live casino games.
BetBarter offers a multitude of different deposit methods along with instant withdrawal. It also provides the highest level of security for your personal and banking transaction.
If you are serious about winning lakhs of rupees, then register at BetBarter today and enrich your online casino gaming experience.
Best wishes!