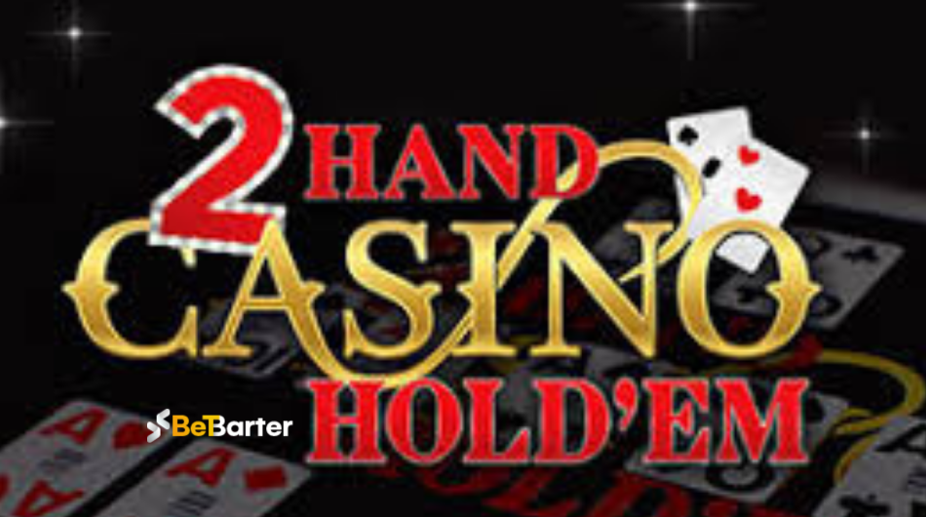 Evolution's Live 2 Hand Casino Holdem takes the whole poker experience to a new level. In this live poker variant, players can get the chance to play with 2 poker hands. So, this increases the player's chances of winning quite significantly. It's up to players to decide whether to bet on a single hand or both hands.
If you want to play a round of a fast-paced poker game, then the 2 Hand Casino Holdem is the perfect game for you. Read this comprehensive guide to exploring the features and gameplay of the game.
How to Play 2 Hand Casino Holdem?
2 Hand Casino Holdem is played with one deck of 52 playing cards. It is compatible with any type of device including a PC, tablet, laptop, or smartphone. The cards are shuffled in each game round by an automatic shuffling machine.
Side note: We have also written a guide to the Andar Bahar casino games. Click the link to know how to play Andar Bahar at an online casino on real money.
All players in Live 2 Hand Casino Holdem will share a single seat. This allows the newbies to enjoy each round without having to wait for their turn. The game is highly scalable as any number of players can join this game virtually. To join the game, players must place ante bets.
As the round begins, you will get to place your bet. You will be asked to pick a coin value that fits you best and you can place it either on Ante or Bonus wagers.
You can keep adding or removing coins to adjust your bets until the timer runs out. After that, the dealer will start dealing with the cards.
If you bet on the Ante for both hands, you will receive two hole cards for each of your hands. The dealer will also get two cards, but their cards will remain face down.
With the two initial cards are drawn, three community cards will be drawn as well. Now this will form your first five-card poker hand, which will determine wins for the side bet. You can either choose to keep playing or to fold at this moment. If you decide to continue, you have to place a Play bet, worth 2x the Ante wager. If you keep playing, two more cards will be drawn, and it will reveal your final five-card poker hand.
The deal here is to beat the dealer by having the best 5-card poker hand. If one of the player's hands is better than the dealer's hand, the player will win.
After the betting is over, the dealer will disclose his two cards. If he has less than a pair of fours, then he would be disqualified for the round. This will result in an Ante win, but the play bet will be pushed. If the dealer qualifies, the winner of the game will be the one having the stronger hand.
2 Hand Casino Holdem Payouts
Ante Payouts
| | |
| --- | --- |
| Poker Hand | Payout Odds |
| Royal Flush | 100 to 1 |
| Straight Flush | 20 to 1 |
| Four of a Kind | 10 to 1 |
| Full House | 3 to 1 |
| Flush | 2 to 1 |
| Straight | 1 to 1 |
| Three of a Kind | 1 to 1 |
| Two Pairs | 1 to 1 |
| One Pair or lower | 1 to 1 |
Bonus Payouts
| | |
| --- | --- |
| Poker Hand | Payout Odds |
| Royal Flush | 100 to 1 |
| Straight Flush | 50 to 1 |
| Four of a Kind | 40 to 1 |
| Full House | 30 to 1 |
| Flush | 20 to 1 |
| Straight | 7 to 1 |
| Three of a Kind | 7 to 1 |
| Two Pairs | 7 to 1 |
| Pair of Aces | 7 to 1 |
Game Features
2 Hand Casino Holdem is an upgrade to the Live Casino Holdem title which means it possesses all the features of the regular Casino Holdem.
One of the great things about Live 2 Hand Casino Holdem is that players will have more options than the dealer. The dealer can only play with one hand while the player can play with two. This means the player is going to have more advantages than the dealer.
Comparing to the standard poker, if you lose on your one hand then your game will be finished. Whereas, with Live 2 Hand Casino Hold'em, you will be still in the game.
Another exciting feature of this game is the AA bonus bet. AA bonus bet is a side bet which pays out regardless of the outcome of the main game. if a player has Pair of Aces or higher, the player wins. The prices will go higher depending upon how good your hands are.
Video and Sound Features
The exciting gaming experience of Evolution 2 Hand Casino Holdem will keep you engaged for hours. Here you will get a chance to chat with the dealer and the video feed is of the highest quality. You can even adjust the video feed to low or high depending on your requirements. However, most players don't go through these options and choose to rely on Evolution Gaming's software to pick the best video quality.
Players will also be able to choose sound settings based on their preferences. They can choose to go with listening to what the dealer says or choose the game sounds. If they want to listen to both or even if they want to choose none, they will have the option.
You will see a single camera focused on the table and the dealer. The camera angle is always focused in one place and it never changes. As the game proceeds, you will find the game table on the bottom section of the display so that you can follow the game without distortion.
As this is a card game, there will be no slow-motion features or replay close-ups available. The table will remain highlighted on the screen so that you can check on and confirm the cards.
Device interface
2 Hand Casino Holdem can be played on most devices such as smartphones, tablets, and desktop computers. All the gaming interfaces in these devices will offer an exciting and thrilling gaming experience.
The game uses an optical character recognition system to watch any action the dealer takes. You can also choose to add other tables in the game by using the multi-gameplay. The game table is set on the dealer display and you have to place your wager using the chips displayed on the screen. Your wager options are Bonus and Ante bets.
If you run into difficulties or get any doubts, there is a help section available that will assist you and clear your doubts.
Conclusion
To gain more knowledge of the game, you would eventually need to play a few hands. Most online live dealer casinos offer this 2 Hand Casino Holdem by Evolution Gaming.
You don't have to worry about the legitimacy of this game as it is licensed and regulated by UK Gambling Commission, Maltese Gaming Authority and Alderney Gambling Control Commission. Just make sure to play in a reputed and reliable online casino and you are good to go.
If you are from India, you can choose BetBarter as it is a top and reliable betting site in India. The site is licensed by Curacao Gaming Authority which means you don't have to worry about any scams or frauds.
No matter where you play, always practice responsible gambling.
Register to BetBarter and get a chance to claim various online casino promotion bonus.